I'd be willing to bet 90% of the people who read this blog know the car I'm about to feature. It isn't one of those cars that's known because it has 11ty billion dollars worth of body work or a huge stereo. This car is known because the car is a subtle well built 2005 Subaru Impreza WRX STI with all the right parts.
About Dan aka BoostJunkie:
Dan began doing HPDE events in 2004, right after he bought his STi. A family friend suggested that Dan and his dad sign up for an event at VIR. No question, Dan was hooked.
Dan began branching out to other organizations like NASA, Mazdadrivers, Audi Club, Mercedes Club, and TrackDaze.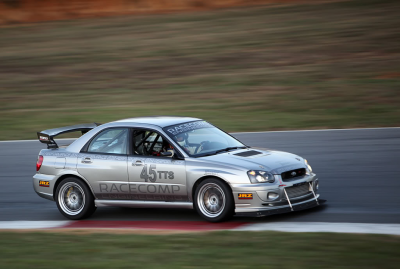 After he graduated college Dan decided to change the 2005 Subaru from a daily driver into a full time race car. At the beginning of the 2009 season, he completed a NASA TT license evaluation and went on to do a full season in the TTS class. Dan won the season championship for his class. Winning the class championship is a huge accomplishment and shows Dan's dedication and ability.
The Car: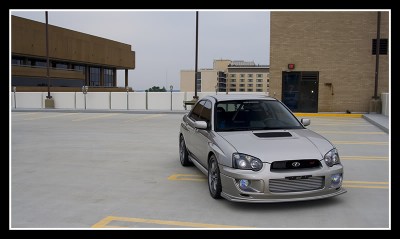 Every (ok 90%) of STi owners think it wont be necessary to modify their new car and we're all wrong. Dan is no different and if you have followed Dan's car over the last few years you know this is true. Dan had the opportunity/pleasure to work with the Myles @ Race Comp Engineering, this was two fold. RCE helped Dan learn the technical aspect of suspension tuning and RCE also began using Dan's car to test new products on the street and track.
Over the next few years, Dan's 2005 Subaru Impreza WRX STi went through many different suspension setups, and continued to modify other aspects of the car as well. Initially the goal was to create the ultimate dual purpose street and track car, and he was able to find a good balance between the two. A year or so ago, Dan got to the point where he was able to turn the car into a purpose built race car. Doing so is alot harder than it sounds. Turning a Street Car into a purpose built race car is more than "gutting and caging", Dan learned this first hand.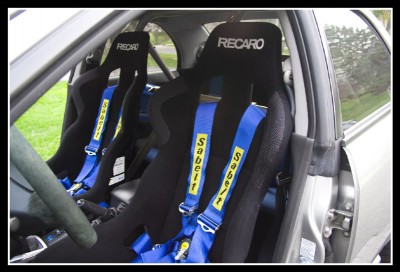 Dan trusted IAG Performance in Westminster, MD with building a custom roll cage. A huge amount of weight was removed from the car, which meant pulling out all of the HVAC components, gutting the doors, and basically taking out everything in the car that wasn't serving a purpose on track. The incredible increase in chassis stiffness required a suspension setup to match, so a set of JRZ RS Pro dampers were installed. IAG rolled and pulled the fenders to make room for a set of 275/35/18 Hoosier R6's mounted on Enkei NT03+M's in 18×9.5 +40. Leaving no aspect of the car's setup untouched, a SARD carbon kevlar wing and a custom alumalite front splitter were installed to add some much needed downforce. Dan spent many hours stripping the cabin wiring harness and rewiring most of the electrical components to reduce weight.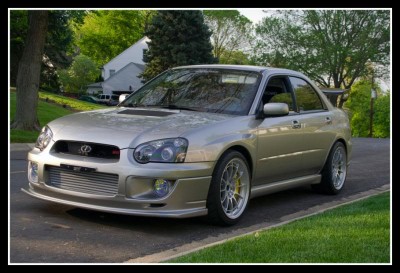 Once the car was back together, Dan focused on dialing in the new suspension and getting used to driving the car. Dan's lap times continued to shorten once Dan started fine tuning the new JRZ RS Pro's. The car was now able to compete with the front runners in its class, and with a win and a second place finish in the two races during the second to last race weekend of the year, Dan had secured the TTS Championship.
The final race weekend of the season at Summit Point started off well, and Dan took second place on Saturday behind a very fast Corvette Z06. During the Sunday morning warm-up, the car suffered a brake line failure while entering Turn 1 at nearly 150mph. The car entered the gravel trap sideways and rolled 3 times, landing on the other side of the tire wall. Miraculously, Dan suffered only minor injuries and was able to climb of the car under his own power. The car, on the other hand, was damaged beyond repair. However, Dan already has started to rebuild the car, and already has a GD Impreza chassis to work with. With any luck, we will see a new and improved version of the car during the 2010 season.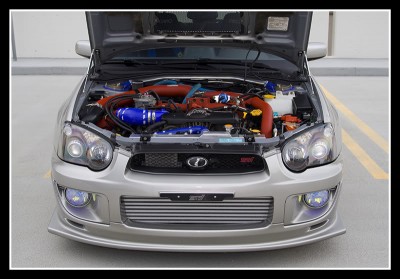 Sponsors:
RaceComp Engineering:
Dan's relationship with RaceComp Engineering goes back to 2005, when he began working there. Throughout the years, they have provided many parts for the car, including their swaybars, kool brake kit, GTWorx camber plates, and many parts from other manufacturers. They have also provided a great deal of input for chassis setup. Myles Williams, the company's founder, has given Dan personal driver coaching, drawing on his many years of racing experience.
IAG Performance:
IAG Performance in Westminster, MD came on board as a sponsor about a year ago. They have done extensive fabrication work on the car, including the construction of the roll cage. They have also provided their header and external wastegate uppipe, as well as a few miscellaneous parts. IAG has performed much of the maintenance work on the car, including regular alignments, tire mounting and balancing, and ECU tuning. They have committed to being a key part of the build process for the new car, and even provided the chassis as a starting point. Their meticulous attention to detail produces incredible results, and their support has been essential to Dan's success over the past season.
JRZ Suspension Engineering:
JRZ joined this project in the middle of the 2009 season, providing a set of their 2-way adjustable RS Pro dampers. They are externally adjustable for both compression and rebound, and also feature remote fluid canisters and adjustable nitrogen pressure. Their build quality and performance are both outstanding. Bryan Hise, the east coast representative for JRZ USA, has offered invaluable support and setup help.
Stoptech:
Stoptech provided one of their front big brake kits for this project, featuring ST-60 6 piston calipers and 355x32mm rotors. They have also offered ongoing support, supplying replacement rotors and a great deal of expertise pertaining to pad selection, operating temperatures, and more. Dan plans to continue his relationship with Stoptech and use one of their big brake kits on his new STi build.
Kaminari Aerodynamics/Racetech North America:
This past season, Kaminari supplied a set of their race lateral links, featuring 6061-T6 seamless tubing and rod ends that are rated at 28,000 lbs. They also provided a pair of their brake duct inlets, essential in feeding cool air to the front brakes. Dan also uses a Racetech RT4009HR seat, although he purchased it before his sponsorship agreement with Racetech North America. He is looking forward to working with them on his new project, as the quality of both their aerodynamic and mechanical parts is top notch.
Dan's 2005 Subaru Impreza WRX STi was an amazing car and we all were stunned when we heard of his accident. Dan being "Ok" after his accident says a lot about Subaru and IAG's cage work. This is a risk all of us take while we're track our cars but we can choose to build and own safe cars.
The Mod list you're about to scroll through looks more like a wishlist of the average STI owner. I can't wait to see the new car once it is complete. (Scroll down for a few teaser shots of the new car).
Mod List:
Engine:
-Element Tuning GT52 turbo
-APS DR525 Intercooler
-Deatsch Werks 850cc Injectors
-GTSpec Equal Length Header
-IAG EWG Uppipe/Dumptube
-Tial 44mm Wastegate
-Mocal Oil Cooler/Thermostat
-Covert Performance Fuel Surge Tank
-Bosch Motorsport 044 External Fuel Pump
-Perrin Turbo Inlet
-APS 70mm CAI
-TGV Deletes
-Grimmspeed 8mm Phenolic Intake Manifold Spacers
-Element Tuning Competition Catch Can
-Koyo Aluminum Radiator
-Samco Radiator Hoses
-Invidia Bellmouth Downpipe
-Invidia N1 Race Full Titanium Catback
-Prodrive Boost Control Solenoid
-AEM 3.5 bar MAP Sensor w/ Cobb Adapter
-Cobb Accessport Version 2
-Protuned by Jorge at P&L
-374whp/365wtq (93 octane)
-419whp/437wtq (Sunoco GT100)
-Turbosmart Dual Port BOV
-Cusco Engine Mounts
-Walbro 255lph In-Tank Fuel Pump
-NGK 1 Step Colder Plugs
-Crucial Racing Thermostat
-Odyssey PC680 w/ Billet Mount
Suspension/Brakes:
-JRZ RS Pro Dampers
-GTWorx Camber Plates F+R
-Hyperco Main Springs/Swift Helper Springs
-Q-rack 11.5:1 Steering Rack
-RCE 25.5mm Adjustable Swaybars
-Kaminari Race Lateral Links
-Covert Performance Subframe
-Kartboy Rear Endlinks
-Whiteline Sport ALK
-Whiteline Roll Center Kit
-Whiteline Plus Trailing Link/Front Control Arm Bushings
-Kartboy Botox Bolts
-Greddy Front Strut Bar
-Stoptech 6-Piston 355mm Front BBK
-Cobb SS Rear Brake Lines
-Hawk DTC-70 pads
-Motul RBF600 Fluid
-RCE Kool Brake Kit
-Cusco Master Cylinder Brace
Transmission:
-Exedy Stage 1 Clutch
-STi Short Shifter
-Kartboy Front/Rear Shifter Bushings
-Cusco Transmission Mount
-Kartboy Subframe Outrigger Bushings
-TiC Rear Diff Mount Bushings
Wheels/Tires:
-Enkei NT03+M – 18×9.5 +40 w/ Hoosier R6 – 275/35/18 (dry)
-Enkei NT03+M – 18×9.5 +40 w/ Hoosier Radial Wets – 275/35/18 (wet)
Shop for Hoosier tires at Tire Rack.
Exterior:
-Cusco Front Lip
-Custom Alumalite front splitter
-SARD Carbon Kevlar Wing
-Kaminari Brake Duct Inlets
-Lightwerkz TSX Projector Headlight Retrofit
-Craft Square Carbon Fiber Side Mirrors
-Varis Carbon Fiber Exhaust Shield
-KS-Tech Hood Vent
-Sparco Hood Pins
-OEM WRX Sideskirts
-Rennline Front Tow Hook
-NRG Hood Struts
-Autospeed Front Bumper Trim
-Blue Batmobile Taillight Overlays
-Black i Badge
-Custom Vinyl by IAG Performance
Interior:
-Racetech RT4009HR Seat
-IAG Performance Custom Rollcage
-Schroth Profi II-Y Harness
-OMP Targa Steering Wheel
-Sparco Steering Wheel Hub/Quick Release
-Amerex 2.5lb. Halon Fire Extinguisher w/ Brey Krause Mount
-Defi Amber BF Boost/EGT/Oil Press. Gauges
-Allview Racers Mirror
-Custom Carbon Fiber Switch Panel
-Custom Lightweight Wiring Harness
-Gutted Doors w/ Removable Front Windows
-Removed A/C and Heater Core
-Removed Intercooler Sprayer System
-Removed All Interior Panels/Carpet/Sound Deadening, Gutted Stock Dash
-Lathe Werks Copolymer Shift Knob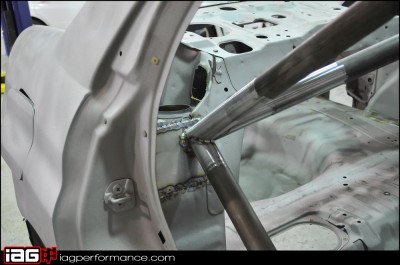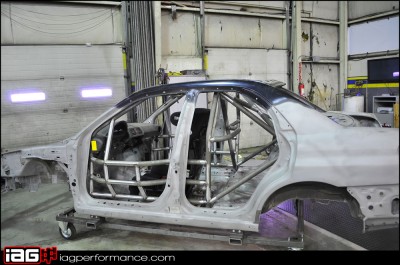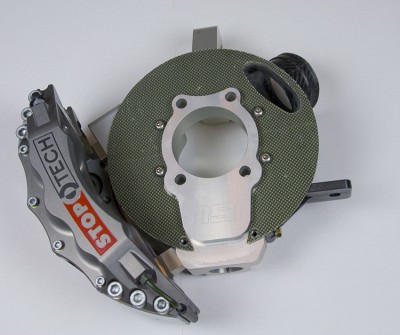 As always don't hesitate to post comments/questions.