Tag Archives: Volk Racing TE37
The car is a 2006 Subaru Impreza WRX STi with a full Zero/Sports goodies and Volk Racing TE37s. Many people inside and outside of the Subaru community are familiar with the car that I'm about to feature (for a 2nd time). Bill Vitale has done it yet again, he sets the bar for Aggressive fitments. The first time Bill set the bar was over 14 Months ago with his 18×9 +29mm Advan RS's.  Bill's most recent overhaul included more than just fresh wheels and suspension. He decided it was time to go Rotated, a GT30R no less.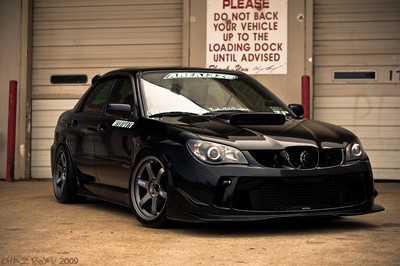 Getting an 18×9.5 +22mm TE37 with a 255 to fit on any Subaru takes considerable effort and planning. Bill, as always, was willing to do what it takes to have one of the most aggressive setups on an GD STi.
 
Looking at running a 17×9 on your Subaru Impreza WRX STi?
Here's a short list of some of the available 17×9 wheels for the Subaru Impreza WRX STi (05+) that clear the brembo brake calipers.
These models listed below may require modifcations to fit a given suspension setup. The modifications required to make these fit will be addressed later. Although the 9.5″ article seen here (http://t3hclap.com/archives/11) and the Fender Mod article seen here (http://t3hclap.com/archives/49) are must reads for all people hoping to run 9″ wheels.
Continue reading Proper Fitment 17×9 Subaru Impreza WRX STi (05+) →