"The Limited Project," the story –
Matt bought his 2007 Subaru Impreza WRX STI Limited in October 2006, there hasn't been a dull moment with this car. Matt bought STi Limited #657/800, and has had a wrench in his hand until present day. That's nearing four years of differing phases and modifications. This isn't Matt's first modified car, nor his first Subaru.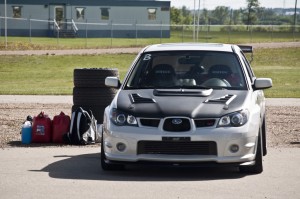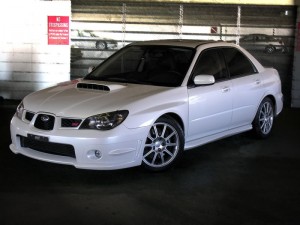 Matt's modding addiction began with a 2006 Audi A3 2.0T. The car was a ton of fun, had a bit of refinement and luxury, but it was missing one key ingredient: AWD. Matt did everything he could to that car aside from pull the engine, but it was still not as fun as an AWD Subaru that could put the power down. That said, Matt has a bit of a bias for Subaru's based on his history with them – Matt's first car was a '96 Subaru Forester, he also a had a 2004 Subaru Impreza WRX STI. The 2007 Subaru Impreza WRX STI Limited featured here, and his 2008 Subaru Impreza WRX STI that he uses for daily driving duties are currently in his garage. Needless to say, he has a bit of a thing for Subaru's.
So, with Matt's background in professional sports and being competitive in everything he does, he set his sights on his newly acquired '07 STI Limited and decided to make it as fast and well built as his bank account would allow. The original goal was to have a very fast, but reliable, street car. That goal changed as he got further into the build and realized how much fun tracking the car was. At this point, the ultimate goal is to have a very competitive Subaru track car, one that can hang with the big boys – the Z06s, 911's, GT-R's, and the like.
Once his final goals were established, he got in touch with Rocket Rally Racing ( www.rocketrally.com), one of the premier Subaru and rally shops in Canada. The owner of the shop, Pat Richard, is a multiple National and North American rally champion. With many titles under his belt, as well as countless rally builds, street car builds, and road race car builds, Matt was 100% confident that this was the guy, and the shop, to take his 2007 Subaru Impreza WRX STI Limited to. He was 100% right, the end result is a car with a reliable 504WHP on the daily driving map (94 octane + 30:70 meth injection) and 573WHP on the race map (VP109 + meth).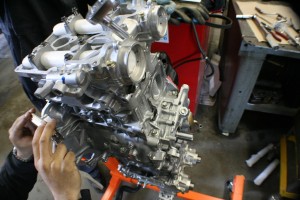 The final build was completed late 2009. Matt only had time for one lapping event before the snow flew. He also hadn't had time to get the suspension completely dialed in, nor were his alignment settings ideal. The end result was an extremely tail happy, loose, scary 500+WHP experience. Matt had some work to do over the winter break.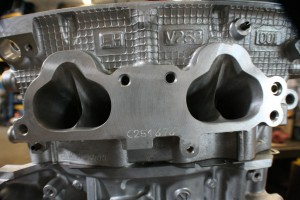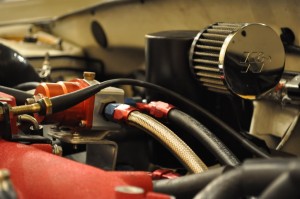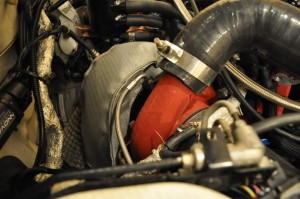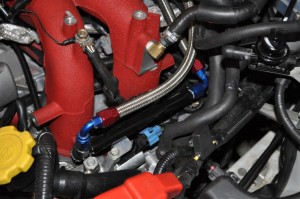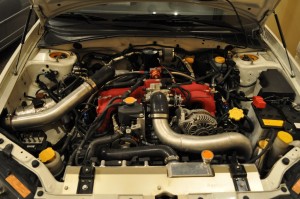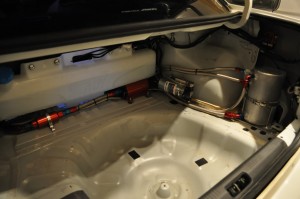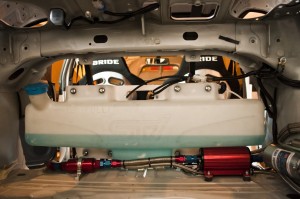 Current setup –
Fast forward to today, the work over the winter and spring has allowed Matt to get the car dialed in for the track. Here's what has been done over the winter and spring:
Chassis prep:
Matt has done a large amount of weight reduction. Removing the entire A/C system, the OEM air pump is gone, the interior is gutted, the OEM subframe was swapped for an Oswald Performance lightweight subframe, a new lightweight battery replaced the heavy stock battery, and all sound deadening is removed. Matt also replaced his OEM hood and trunk with Seibon dry carbon fiber pieces. The dry carbon pieces are extremely lightweight, and very strong. All in all, pretty much anything else non-essential has been removed from the car.
To deal with downforce, Matt has a Voltex Type-2V, 1400mm wing. He also has an APR front splitter and diffuser about to go on.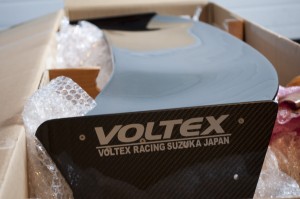 Lastly, Matt had a 6-point roll cage welded in since he wasn't allowed to compete without a cage and harness at his modification level.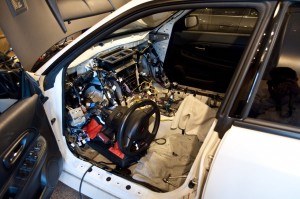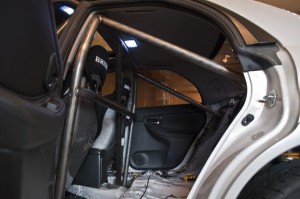 Suspension:
Matt's ride height is currently 13.5" in the front (hub to fender) and 13" in the rear. He's running -3* camber up front, and -2.5* camber in the rear. Matt is going to be diallng in a little bit more front camber yet, to suit the R-compound tires.
Matt recently upgraded to Hyperco 12k/10k springs for his Ohlins Flag Series coilovers since the Eibach 8k/6k springs were absolutely not up to the task after installing the cage. With the incredible increase in chassis stiffness, those relatively soft springs were getting crushed in tight corners since the chassis was not absorbing or flexing at all. At this point, Matt has yet to try the 12/10's on the track, but he has faith that it will definitely help his cornering stability.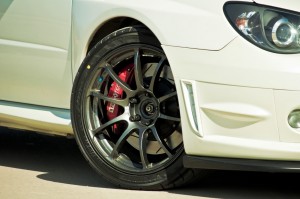 Wheels/Tires:
Matt has two wheel/tire setups for a little function and a little form.
Street: For the street, Matt is running gunmetallic Advan RZ wheels in 18×9 +35mm offset. Mounted to those wheels are Yokohama Advan AD07 tires in 265/35R18.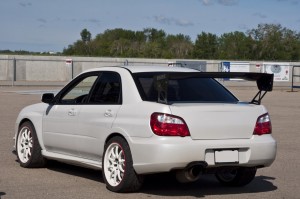 Track: For the track, Matt needed a wheel that was stronger and lighter than the cast Advan's, so Matt opted to go with a set of forged Volk Racing Wheels. The Volk Racing CE28n has always been one of his favorite wheels, so when the opportunity came up to buy a set of J-Spec (White with a Red Lip), 18×9 +35mm CE28n's, He jumped all over it. Mounted to those wheels are Toyo R888's in 255/35R18.
To get those wheels and tires to fit, Matt had to used my fender article as a guide to mutilate his rear fenders. I busted out the grinder, the ball peen and dead blow hammers, and took care of business.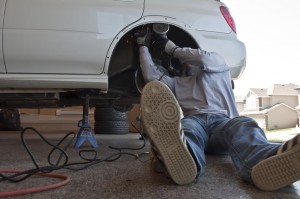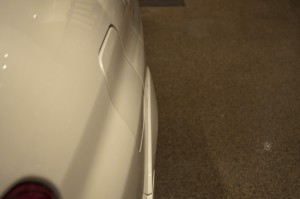 So, at this point, everything should be set for the rest of the season of Solo Sprint. Matt's next event is July 4th, so we all are looking forward to seeing how all the changes (suspension, aero, etc) work out since his last timed event.
On to the HUGE! Mod List
ENGINE
Heads/Cams:
1) Cosworth Big Valve, ported performance cylinder heads
Bottom end:
2) Crawford S3L-i with custom 8.2:1 billet pistons
Engine Management:
1) Autronic SM4
– SM4
– Prototype Knock Board
– Cable throttle conversion
2) Rocket Rally tune
Oiling:
1) Moroso Oil Pan and Pick-up tube assembly
2) Crawford A/O Separator
3) Shimmed OEM oil pump
4) Custom VTA breather system (more info to be posted later)
Fueling:
1) Deatschwerks 850cc injectors
2) Custom Rocket Rally motorsports fueling setup
– Custom surge tank
– All -AN fittings
– Aeromotive A1000
– Aeromotive fuel filter
– Aeromotive FPR
– Walbro in-tank Fuel Pump
Turbo:
1) APS TSR70 w/ 1.06A/R back housing (HPC 1600*F coating)
Intake:
1) APS TSR70 specific 80mm CAI
Exhaust manifold and UP:
1) APS Twinscroll Exhaust Manifold
2) APS Twinscroll Up-Pipe w/ Tial 44mm EWG
Exhaust:
1) APS R5 (3.5″) TBE
Intercooler:
1) APS DR725 FMIC w/ custom (reversed) I/C piping
Water Injection:
1) Aquamist HFS-5 w/ Spec C 12L tank
Intake manifold:
1) Flipped JDM Ver.9 manifold (no TGV's) with custom I/C piping
BPV:
1) BOV block off plate (no BOV)
Radiator:
1) Koyo Racing Radiator
2) Samco Radiator hoses (black)
SUSPENSION
1) Q-Rack quick steering rack: 11.5:1 ratio
2) Ohlins Flag Series Coilovers
3) Hyperco 12k/10k springs
4) Whiteline 27-29mm Adjustable FSB
5) Whiteline 24mm RSB
6) Kartboy Front endlinks
7) Cobb Rear Endlinks
DRIVETRAIN
1) Group-A Subframe locking bolts
2) ACPT CarbonFiber Driveshaft
3) Cobb dual-adjustable STI short shifter
4a) Kartboy Front shifter bushings
4b) Kartboy Rear shifter stay bushings
4c) Kartboy shifter pivot bushings
4d) Kartboy shifter linkage bushings
5) TiC Tranny Crossmember bushings
6) Beatrush engine pitch stop mount
7) Group-N "Performance" hardened engine mounts
8 ) Group-N "Performance" hardened transmission mounts
9) Rocket Rally tuned Custom P-n-P DCCD controller
10) Oswald front subframe
11) 6-point MIG and TIG welded roll cage
Fluids:
1) Motul Competition FF 75W140 transmission oil
2) Motul Gear 75W90 rear differential fluid
WHEELS/TIRES
Track:
1) Volk Racing CE28N J-Spec (white/red) 18×9, +35mm. Toyo R888 255/35R18
Street:
1) Advan RZ, 18×9, +35mm. Yokohama Advan AD07 265/35R18
BRAKING
Calipers:
1) Stoptech 355mm 6-Pot BBK
2) OEM STI Brembo 2-pots
Rotors:
1) Stoptech 355mm slotted rotors
2) DBA 4000 slotted rotors
Pads:
Street:
1) Front – Ferodo 2500
2) Rear – Hawk HPS
Track:
1) Front – Hawk DTC70
2) Rear – Hawk DTC60
Fluid:
1) Motul RBF 660
Brake Lines:
1) Tecnafit stainless steel braided brake lines
EXTERIOR
1) Seibon Dry CF hood
2) Seibon Dry CF trunk
3) Voltex Type 2V 1400mm wing
4) APR front splitter
5) APR rear diffuser
6) Autospeed "STI" anodized black front licence plate filler
7) CF licence plate frame
8 ) 5-window tint
9) '04/05 Tails
10) RavSpec CF exhaust shield (06/07 specific)
11) GrimmSpeed hood dampers
12) Painted headlight housings
INTERIOR
1) Mainly gutted
2) Bride Zeta III driver and passenger seat
3) G-Force 6-point harness
4) Gauges:
– Defi BF Amber 60mm gauges (OP, Boost, EGT)
– Defi clock pod, paint and texture matched
– Autometer Dual Gauge Pod Cluster bezel
– Innovate LC-1 WB02 + DB Gauge (red)
– Aquamist DDS3 Water injection gauge
5) Beatrush rear bulkhead division plate
6) Custom carbon fiber DIN-panel
WEIGHT REDUCTION
1) Estimated total weight reduction: 360.4lbs
Some Random Shots of Matt's car over the years.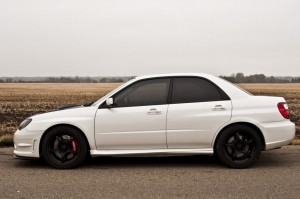 Above is a snapshot of Matt's first set of Race Wheels, 18×8.5 +45mm Rays Engineering 57F.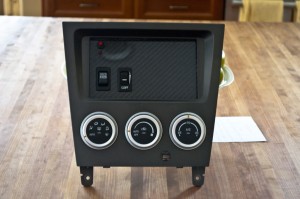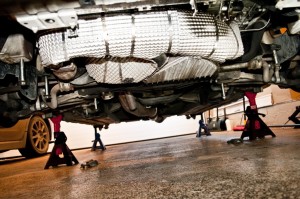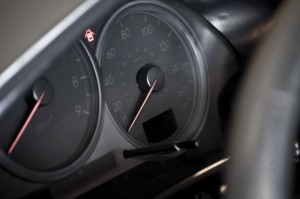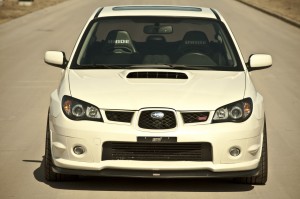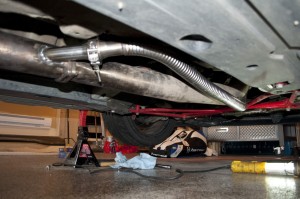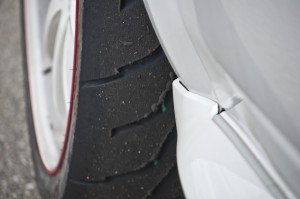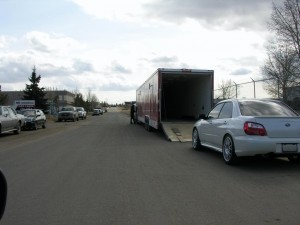 Unloading @ Rocket Rally on his original BBS RE's.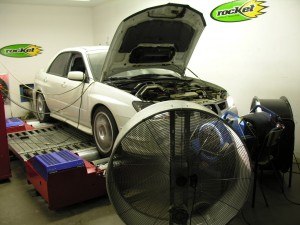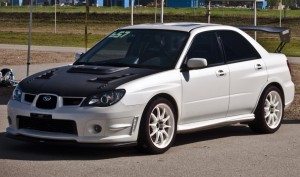 Matt's Future Plans and Thank yous:
As weird as this sounds, I could see myself upgrading to a Full Race twinscroll 40R equivalent kit (but with the BW turbo). As if 500WHP isn't enough. 600WHP+ would put a smile on anyone's face!
Last but not least, a quick thank you –
The only company I'd really like to thank is Rocket Rally Racing. Through all the ups and downs of the various stages of my build (and believe me, there were some ugly downs), Pat Richard and Rocket Rally have stood behind their work 100%. The build itself, the tuning, the post-sales service, the customer support, and pretty much everything customer service related that you hope a company will offer, they do. I would and do suggest them to every person I talk to interested in major builds because they are truly a one stop shop.
www.rocketrally.com
As always any questions/comments don't hesitate.
-T3h_Clap