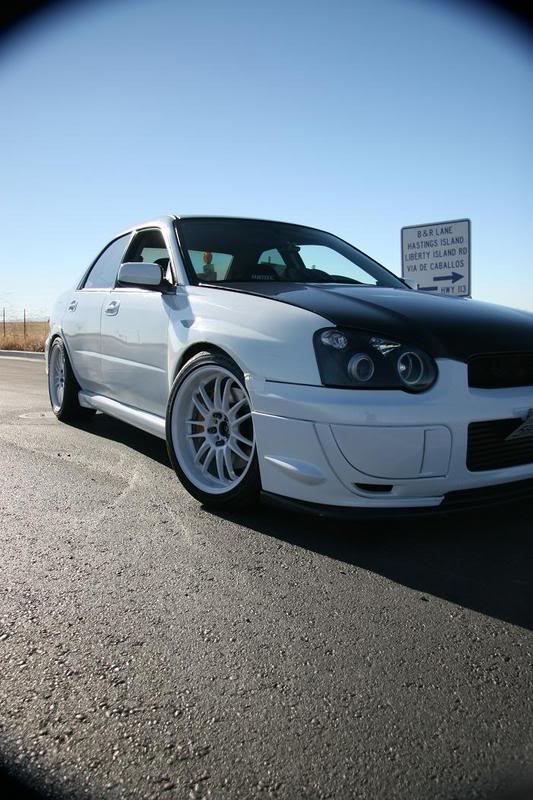 Running an Aggressive fitment on an STi isn't easy but at the same time it isn't impossible. For autox, track, show, street it is possible to find a wheel and tire combo that will meet the needs you're looking for.
To run a 9.5″ wheel on an Subaru Impreza WRX STi GDB/F you'll need the following
Needs
Coilovers with stiff springs (550/10k+).
Camber adjustability Front and Rear (preferably with plates and bolts).
The drive to make these work, this size doesn't "bolt on" like other sizes.
A dremel or fender roller or a hammer :D.
5×114.3 hubs are recommended mainly because of their out of the box durability and the wheel choices in 5×114.3 are much better than 5×100.
Also a 9.5″ wide wheel that clears brembos and has an acceptable offset.
This is a very basic "needs" list, what EXACTLY needs to be done to run an aggressive setup will depend on many different variables.
On to the wheels that are available in 9.5″ that clear brembos.
More will be added as the days go on.
Specific fitment questions should be directed to drew@t3hclap.comas every setup is different and just because they clear brembos and the offset looks good doesn't mean it will work.
Some wheels are available in custom offsets and widths, but not all. Most 2 and 3 piece wheels can be ordered with custom offsets.
Rays Engineering
Volk Racing RE30
17×9.5 +40mm
18×9.5 +47mm
18×9.5 +40mm
18×9.5 +35mm
Volk Racing TE37
17×9.5 +35mm
17×9.5 +40mm
18×9.5 +40mm
18×9.5 +35mm
Volk Racing CE28N
17×9.5 +47mm
17×9.5 +40mm
18×9.5 +47mm
18×9.5 +40mm
18×9.5 +34mm
Volk Racing Progressiv ME
18×9.5 +36mm
Volk Racing SF-Challenge
19×9.5 +40mm (disk A)
Volk Racing SF-Winning
19×9.5 +44mm (disk A)
19×9.5 +32mm (disk A)
Volk Racing GT-S
19×9.5 +30mm (disk A)
19×9.5 +43mm (disk A)
19×9.5 +40mm (disk B)
Volk Racing GTM
19×9.5 +36mm (disk A)
19×9.5 +33mm (disk B)
Volk Racing GTF
19×9.5 +30mm (disk A)
19×9.5 +42mm (disk A)
19×9.5 +40mm (disk B)
Volk Racing GTV
19×9.5 +30mm (disk A)
19×9.5 +42mm (disk A)
Volk Racing GTC face 1
19×9.5 +33mm (disk A)
Volk Racing GTC face 2
19×9.5 +36mm (disk A)
Volk Racing GT-7
19×9.5 +30mm (disk A)
19×9.5 +42mm (disk A)
gramLights 57F (No Longer in Production)
17×9.5 +38mm
18×9.5 +38mm
gramLights 57-Pro
18×9.5 +30mm (disk A)
gramLights 57S-Pro
18×9.5 +33mm (disk A)
gramLights 57Maximum-Pro
18×9.5 +30mm (disk A)
Yokohama
Advan Racing RS
17×9.5 +35mm
17×9.5 +25mm
Advan Racing RG2
17×9.5 +35mm
17×9.5 +25mm
Connoisseur No.151C
18×9.5 +38mm
Work Wheels
Emotion CR Kai
18×9.5 +30mm
Meister S1 2P
18×9.5 +20mm (T-Disk)
Emotion XT7
18×9.5 +38mm
Emotion XC8
18×9.5 +35mm

SSR
Competition/Type-C
17×9.5 +42mm
Type-F
18×9.5 +40mm
Enkei
NT03+M (May No Longer be in Production)
17×9.5 +44mm
17×9.5 +38mm
RP03
17×9.5 +38mm
GTC-01
17×9.5 +38mm
5zigen
FN01R-C
18×9.5 +35mm
18×9.5 +45mm