Last month I was at Sebring International Raceway with Chin Motorsports. The car was ready, I was as ready as I was going to be so my fiancée and I headed down to Sebring Friday night after work. Bright and early on Saturday morning I head over to tech/registration and begin prepping my car (ie. remove all the stuff I thought I might need). After the driver's meeting and class session my instructor and I hit the track for the first session.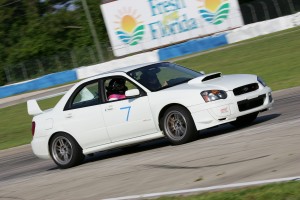 The car performed flawlessly (except some higher EGT's which I'll talk of later), I was happy with the performance of the Dunlop Z1 Star Specs as they were the only thing on the car I was worried weren't going to be up for the heavy track sessions in the Sebring heat.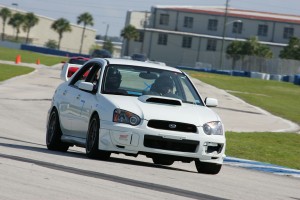 Quick review on my setup for the track day.
Suspension
TiC AST SST's Coilovers with 9k/8k Swift Springs
Vorshlag Camber Plates Front and Rear
Whiteline Plus Bushings (Lateral Link, Rear Trailing Arm, Front Control Arm)
Whiteline Offset Caster Bushing
STi Pink Trailing Arms
Custom Wales Garage/Penguin Garage Alignment
-3.8 front camber, -2.2 rear camber, ZERO toe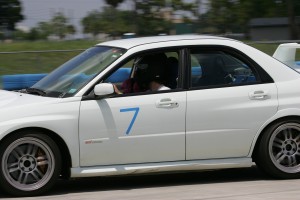 Wheels/Brakes
17×10 +38mm Enkei RPF1
245/40/17 Dunlop Z1 Star Spec
ARP Wheel Studs
Project Mu Lug Nuts
Hawk DTC-70's
DBA 4000's
Engine
APS 3″ TBE
Cobb AP v1
Pro Tune by Jarrad
Koyo Radiator
Samco Radiator hoses
Greddy Oil Cooler
The Suspension setup was amazing, even with the very bumpy nature of Sebring International Raceway the TiC AST SST's did amazing. The car absorbed all of the bumps and the car always felt stable. There was only a few "clean laps" where I wasn't held up by traffic. Being in the Novice group I did run into alot of traffic, it wasn't a terrible thing as this allowed me to focus on my driving line and less about going full throttle or late braking.
With the addition of the Koyo Radiator my water temp never budged, my Greddy Oil Cooler kept my oil temps in check even with the searing Sebring heat. My EGT gauge was showing some rather high EGT temps so I wasn't pushing it 100% on the straights, only about 50% throttle on both straightaways. They peaked at 980c or about 1800f if I remember correctly. I'm tempted to get a new tune, as it's been a few years, just to make sure the car isn't running too hot. Any thoughts on the high EGT temps don't hesitate to comment.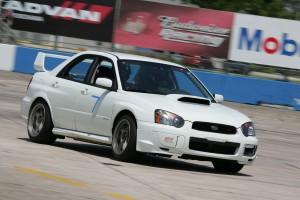 I can't wait to go out to the next Sebring event, I hope to be down for the Redline event in August to see Turn In Concepts tear it up in the Florida heat.
Enough with the chat, on to more photos! Huge thanks to a fellow WRX driver and owner of Colour Tech South Motorsports Photography, LLC. Henry.