The Enkei RPF1 17×9 +35mm require an 8mm spacer to clear the brembos. Big thanks to J Chhim for helping confirm the minimum sized spacer for these wheels.
As you can see here they have approximately 2 to 2.5mm of clearance with the 8mm spacer.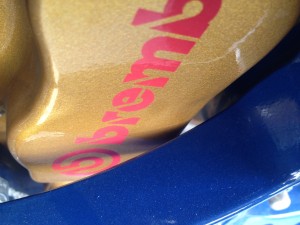 J Chhim aka Jcizzo on the boards first tried to use a 3mm spacer to clear the brakes. It didn't work, it was too tight. He decided it best to run an 8mm spacer. As you see in another pic below anything less than 8mm you're cutting it far too close for comfort. Personally I'd even prefer a 10mm spacer to be on the safe side.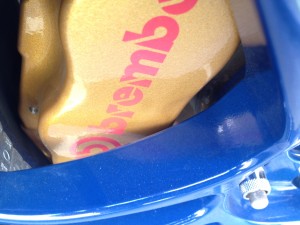 With any spacer you want to run a set of ARP Wheel Studs or similar long wheel studs. This allows you to use a proper spacer that can be designed to seat correctly to the hub and still have the correct outer hub bore to match your new aftermarket wheels.
The 17×9 +35mm RPF1s with an 8mm spacer to clear the brembos puts the effective offset to a +28mm. This offset isn't for the faint of heart. +28mm requires a good bit of additional work to fit correctly due to the lower offset. If you're dead set on 17×9's and are looking for an inexpensive, light weight and pretty strong wheel the RPF1 is a good choice assuming you've got the ARP Wheel Studs, an 8mm hub and wheel centric spacer and the suspension setup to handle the lower +28mm effective offset.
Here are a few more pics of J Chhim's gorgeous Blue RPF1s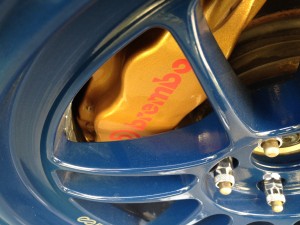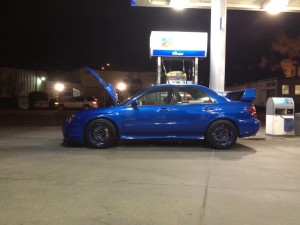 As always if there are any questions on fitment don't hesitate to comment or email us.