In stock form the Subaru Impreza WRX STi is no slouch in the suspension department. This doesn't mean it can't be better, but how far do you go?
Lowering springs that limit the performance and wheel/tire selection or kidney bruising coilovers?
There is a proper middle ground to setting up an STi that is still competitive at the Autox.
Karlton has found that middle ground, the middle ground also happens to include a few sets of 9.5″ wheels!!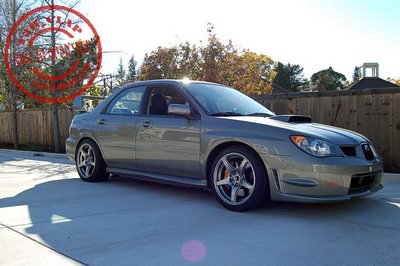 Karlton bought this STi in November of 2005, and after about 500 miles and its first oil change, Karlton took it to its first autocross.
Karlton planned on not modifying this car at all and just running it for fun in A Stock. (We all know how this story pans out)

His first event in the car, Karlton knew it needed a few suspension tweaks. He decided to set the car up for STU since he could keep the car relatively streetable and limit how crazy he could go with the modifications.
After going through a couple different suspension setups Karlton finally found his middle ground.
Karlton qualifies as a Wheel Whore with a nice list of wheels in his arsenal.
Autocross setup:
SSR Competitions
17×9.5 et42 (3mm spacer in the front)
Bridgestone Potenza RE-01r
245/40/17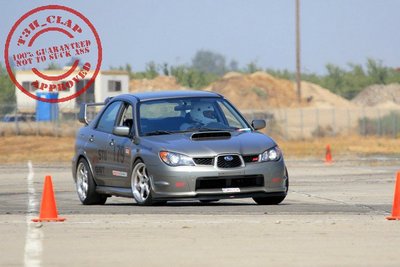 Street/Rain setup:
Kosei K1-TS
17×9 et45
Kumho Ecsta SPT
245/40/17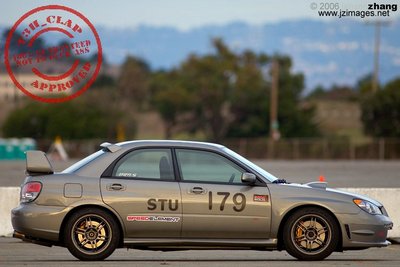 Just for fun:
Enkei RP03
17×9.5 et38
Yokohama Advan Neova AD07
245/40/17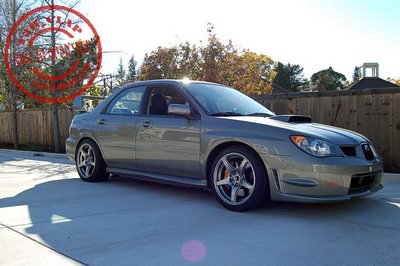 As you see here there is a pattern, 245/40/17s. Karlton is forced by the SCCA Street Tire Unlimited (STU) rule set to have tires no wider than 245, wheel width is unlimited. Exploiting the unlimited wheel width ruling, STU competitors mount their 245s on the widest wheel possible to widen the section width and improve steering response.

When it comes to 9.5″ wheels I really like the placement of the +38mm wheels.

The middle ground Karlton has chosen for his Streetable STU STI is as follows.


Suspension Setup:
Ground Control housings with Koni 8611 Double adjustable shocks
Ground Control camber plates front and rear
Eibach springs 530lb front/500 rear
Whiteline 27-29 swaybars front and rear
Camber: -3 front/-1.8 rear
1/16" toe out front and rear
Ride height: about 13.75" front and rear

Thank you Section:


Karlton would like to thank his sponsors: SpeedElement, GST Motorsports, and AutoRnD.

Any Specific setup questions can be emailed to me, any questions about Karlton's setup feel free to comment or shoot me an email.

Below are some more photos of Karlton's car Equipped with the 17×9.5 +38mm Enkei RP03 with 245/40/17 Yokohama Advan AD07 Tires.