Yesterday I swung by my local Subaru Dealership to take a look at the new 2008 Subaru Impreza WRX STi which they had sitting outside.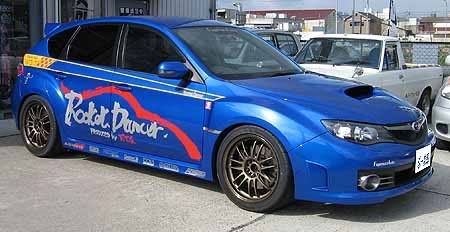 First impressions are "Whoa, you grew" and "Yes please".
The car as a whole appears larger than the earlier years.
As a good wheel whore the first thing I check was the rear Fender lip.
As Suspected there was a good 1″ or so of fender that could be rolled up and out of the way without much hassle.
This is amazing considering people are squeezing 275/35/18s on 9.5″ wheels with only a minor fender roll.
Imagine what can be done with a heavy roll and a slight pull of those fenders. 🙂
The Front fenders did not have nearly as much lip as the previous years, although the front is never really an issue due to the amount of negative camber we tend to run.
It's very tempting to just bite the bullet and jump into an 2008 Subaru Impreza WRX STi and not look back, just go out and grab a set of 18×9.5s with a nice high 40 offset, slap on my 265s and be content until a set of coilovers show up.
I've needed a car to use my pretty new fender roller on……
Yes there are alot more thing to talk about on the new 2008 Subaru Impreza WRX STi, but honestly who cares, it wont be long before you see 08s rolling around with some T3h_Clap Approved 18x10s 😀
Stay Tuned for more 2008 Impreza WRX STi Fitment Info and Photos as I either convince my girlfriend to let me get one, or I find someone on the street willing enough to let me do some test fitting. 🙂
-T3h_:Clap: