Recently I was flipping through the latest Hyper Rev Impreza #6 (thanks John @ GarageSpec), and I found something the community needs to know.
I stumbled upon the release of an 08 STi specific Volk Racing RE30 size.
In case you're unfamiliar with the Wheel here's a little photo.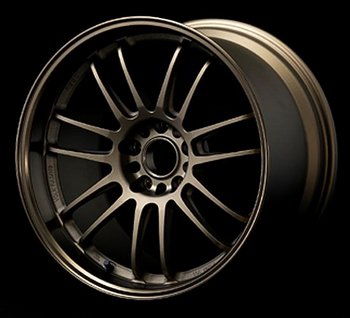 The new Volk Racing RE30 size release for the 2008 Subaru Impreza WRX STi takes advantage of both the added inboard clearance of the new GRB chassis and the new wider front and rear fenders.
This new size will be the standard for all 08s, the "basic" fitment if you will.
18×9 +50mm
Doesn't that just sound wonderful!?
9″ as a "basic" fitment, I remember when it was big news for the Bugeyes to run wider than 7.5!! LOLs.
9″ wheel +50mm offset that will easily fit on the new 2008 STi with ZERO issues?!?!
Makes me want to go get an 08…
For a more aggressive setup, one only needs to go .5″ wider and 3mm lower offset to find another RE30 that clears the Brembos and has very attractive sizing. 18×9.5 +47mm, with the correct fender mods and suspension one could run a 275/35/18 on this setup with only minor hassles. 🙂
After scanning through the new Hyper Rev it is evident that there will be much more to come for the GRB Chassis. With the way the US and the Japanese tuners are diving in to tuning the new chassis it is only a matter of time before the guys with the big check books realize what's possible to squeeze under those new Fender Flares.
Yes, I'm jealous, and Yes I'm looking for some 08s to tinker with.
Any South Florida takers? I've got a few wheels that need test fitting 🙂
Stay tuned for some more Volk Racing articles.
-t3h_Clap