You read that right, 100% stock suspension 2006 Subaru Impreza WRX STi with 9.5″ wheels! Quick background on the car/owner. Ben Wales has had a slew of Subarus over the years. What you see below is a 2006 Subaru Impreza WRX STI aka. Batscubie #5.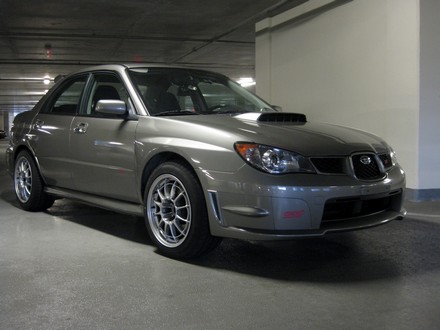 This STi was recently bought when Ben traded in Batscubie #4 aka. the Wraith. Ben had these 17×9.5 +44mm Enkei NT03+M's on Batscubie #4 (08 STi) with some 275s. Ben wanted to compete in STU with the 2006 STI so he kept the 9.5 Enkei's and bought some 245's.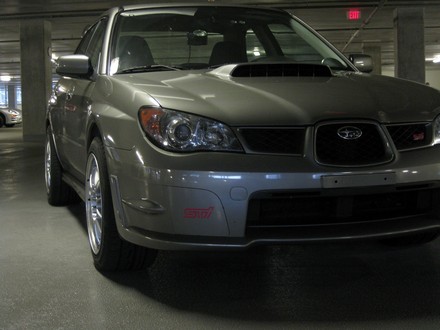 Batscubie #5 is one of the luckiest GD Imprezas out there. Two days after picking it up from the dealership Ben had mounted up his new wheel/tire combo. Brand new 245/45/17 Bridgestone RE760 Sports mounted on to the 17×9.5 +44mm Enkei NT03+M's. Batscubie #5 was rocking a set of Enkei NT03+M's in 17×9.5 +44mm offset on a stock suspension STI!? You may ask, 245's on a 9.5″ wheel? Well the answer to that question is simple, SCCA Solo2 STU requires a 245 tire max. 2nd question is why not RE-11's? Well the answer to that question is simple too, Ben Wales from Wales Garage in Ft. Lauderdale loves any excuse to push Bridgestone's best tires to the test. RE-11's are coming later this year….errr. Maybe I wasn't supposed to let that part out. Sorry Ben, secrets out.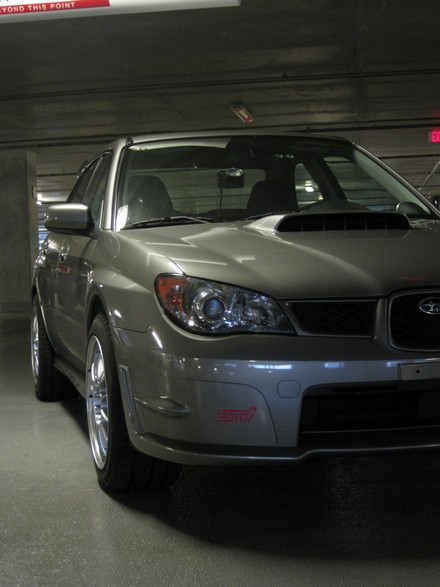 Ben's Batscubie #5 is a 2006 Subaru Impreza WRX STI with Stock STI Springs, Stock STI Struts, Stock STI Front and Rear Sway Bars, and Stock un-Molested Rear Fenders. You read that right, un-Molested Rear Fenders. The reason he isn't rubbing in the rear is simple, +44mm offset and 245/45/17 tire. This combination allows the wide wheel/tire setup to stay clear of the rear fenders (even while autoxing).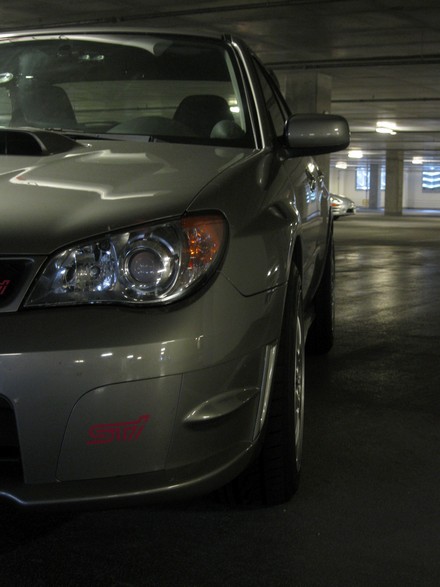 I'm not going to lie, the stock suspension's height (aka. 4×4 status) does the Batscubie #5 a favor. With a lower suspension and still stock fenders this 2006 Subaru Impreza WRX STi would rub.
The is not alot of room inboard with this 17×9.5 +44mm and 245/45/17 setup. This is the same wheel seen on Jaimie's Car (Seen Here). The offset requires careful calculation with inboard clearances, as there can be rubbing if the coilover is wider than the factory strut bodies, or too much camber is dialed in via camber bolts.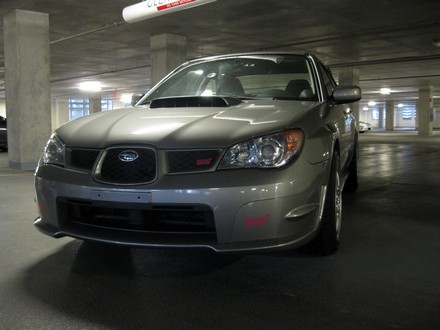 There you have it, 9.5″ wheels with a proper offset are capable of fitting on a 100% stock suspension when running a 245 tire. Any offset lower than a +40mm will most likely rub on the rear fenders, going any higher than +45mm will cause rubbing inboard.
Ben's 2006 Subaru Impreza WRX STi has alot instore for the up coming months, I can't let everything out of the bag just yet so here's the current mod-list.
Wheels/Tires:
Enkei NT03+M 17×9.5 +44mm
Bridgestone RE760 Sport 245/45/17
Suspension:
100% Stock
Power:
APS 3″ Turbo Back
Cobb AP
Interior:
Defi Amber BF Boost Gauge
Schroth Harness for Autox's
Exterior:
Wingless WRX Trunk
Keep your eyes peeled for future Batscubie articles, and as always any questions/comments feel free to post or email.

[ad#HalfBanner]