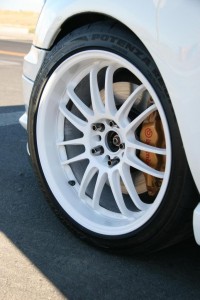 I don't normally post for sale ads on the blog but these wheels deserve a post. These are the famous White 18×9.5 +35mm Volk Racing RE30s from Mr. Adam aka BM_STi aka AdamBOMB_STi. Some of you may recognize Adam's car from one of my first articles "9.5" Wheels on a GD Impreza".
Adam was the inspiration for that article. If you're looking for an aggressive setup for your STi, you're in luck because they are for sale!! Adam is moving on to some bigger wheels for some unknown plans. 🙂 Either way, someone needs to pick these up as they'll work perfectly on any GR/GV or with some work a GD.
This is the original Proper Fitment setup, big wheels, big tires, loads of grip. One of the first GD Imprezas with 9.5s.

Specs:
5×114.3 18×9.5 +35mm L1 Face
Bridgestone RE01R 265/35/18
Brembo Clearance: 05 – 11 STi
For Sale Thread: CLICK HERE!!
Current Asking Price 1/17/11: $2500 + shipping/fees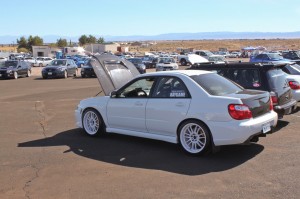 Whoever buys these needs to send me some photos of them on their car. These white Volk Racing RE30s would look perfect on a WRB 2011 STi Sedan. Who is up for the challenge.
You can contact Adam via Nasioc (AdamBOMB_STi) or IWSTI (BM_STi). You can also shoot me an email or leave a comment.
I will keep this post updated when he sells them, hopefully slap a few pics of them on their new owner's car.
If there are any questions on fitment for your car/setup don't hesitate to comment or email.
-Drew