This car I'm about to feature is one many of us have seen floating around the internet. Be it on IWSTI, Nasioc, or his own Blog Pin It To Win It.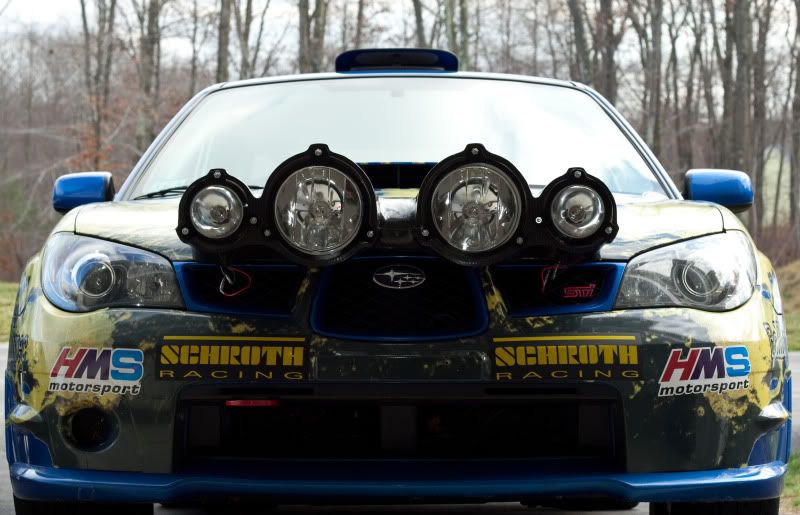 Tim is no different then the rest of us, he chose a modification plan, he talked to vendors, he bought his parts, he got local subie guys to help, he dropped his car off at EFI and he drives the piss out of it!
Alright, there are a few differences. First Tim chose to put the smaller 16″ Specification brakes off the JDM 16″ Specification Spec C STi. These brakes use the same caliper as the 06/07 WRX here in the US but with a different sized rotor, 5×114.3 and properly sized for the rear parking brake and R180.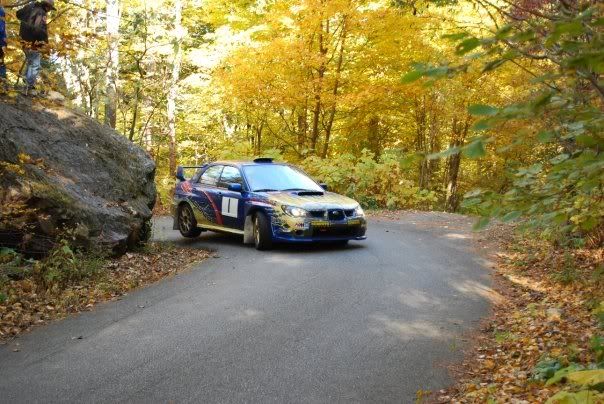 Why go to the smaller brakes you ask? one word. Abilitytofit15inchrallytires. As many of you know the Brembos require a minimum of a 17″ wheel. There are very very few rally tires made in sizes larger than 15″. This leaves little choice for people wanting true rally tires. Little brakes and 15″ wheels here we come!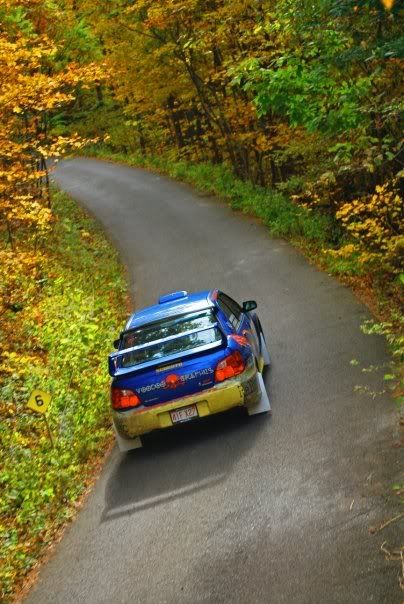 Tim first saw the WRC on SPEED channel back when it aired more then NASCRAP. He was 12 years old and was instantly hooked. Tim like many of us used to stay up until midnight to watch. Tim's favorite team was of course Subaur WRT and he quickly became obsessed with the WRC Subaru Impreza WRX STi. After Tim graduated college and nailed down his first "Grown up" job he bought his STi. This is the first car he's modded if you can believe that.
Another similarity between Tim and the rest of us is that he built this car to compete in multiple different types of racing and more than one rule book. He shot for both NASA/USRC and RallyAmerica. Building the car to be eligible for both associations allow Tim to run more events and enjoy the car more.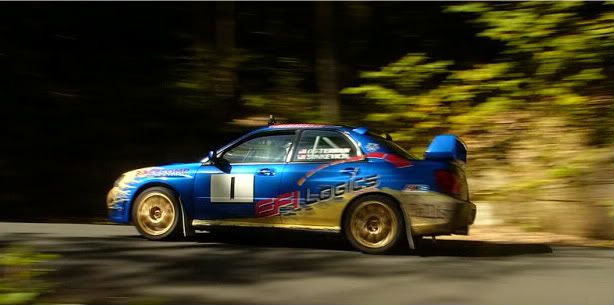 Ok, ok lets be honest. Tim is a little crazier then alot of us. haha. He did put a huge 4 light pod, full cage, and removed the interior in a perfectly good 2006 STi. What did he end up with? A perfect hill climbing rally monster that not only looks the part but also performs! I can't wait to see more video/photos/info on Tim's Rally Bagger.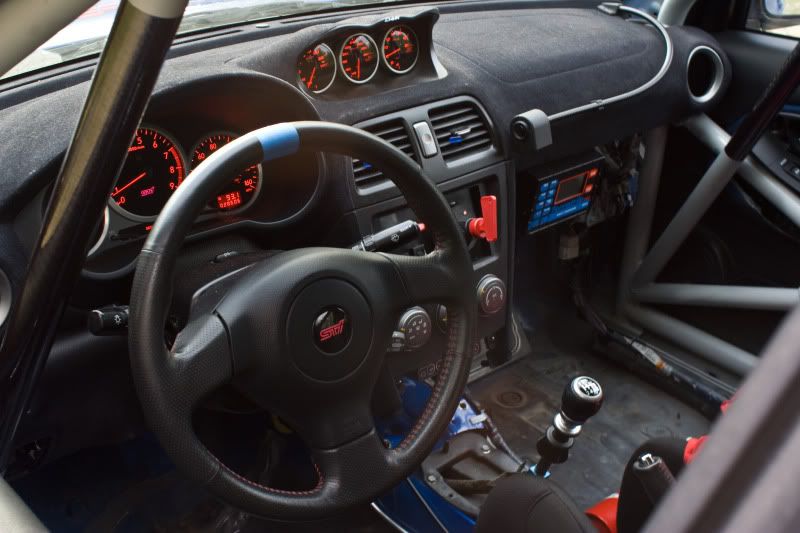 This RallyBagger was built with the help of a few key vendors/people.
Most Important – EFI Logics – simply put Chris and his crew are the best. No words describe them!
Sunshine Sign for all the graphics and continued stickering of the car
Rallispec, TurnInConcepts, and HMS Motorsport for helping out with some of the build
Turn In Concepts
Ralli Spec
HMS Motorsport
Of course a link to the Teams site
Tim has a busy schedule coming up, good luck!
Rallies
January 23-24th Winter Rally New York – Snow
April 16-17th Rally New York – Tarmac
July 16-17th New England Forest Rally – Gravel
September 10-11th International Rally NY – Gravel
Hill Climbs (Dates not established yet)
Mt. Ascutney I: May
Burke I: June
Okemo I: July
Okemo II: August
Burke II: August
Mt. Ascutney II: September
Philo: October
Engine/Turbo
Stock VF39
EFI Logics Custom Race Exhaust
COBB SF intake
COBB AP2
Gimmick MAF tube
GroupN Engine mounts
Kartboy Pitch Stop
Suspension/Driveline
DMS 50mm Gravel Coilovers
GroupN top hats
Every bushing TiC offers – Seriously
GroupN tranny mount
GroupN Engine mounts
Rear lock down bolts
Interior
Cobra Suzuka GT seats
Terratrip Kill switch
DEFi gauges/control unit
Terratrip Intercom
Terratrip Rally computer
Schroth 6 point Profi Harnesses
Terratrip Map Lights
Custom Rally Spec cage built by Chris Howard
Exterior
Custom Vinyl by Voodoo Graphics (a division of Sunshine Sign)
Custom Rallybagger mud flaps
Roof Vent
Prodrive Carbon Fiber replica Light Pod
Hella 700FF Driving lights x2
KC Hilites 50 series x2
Brakes/Wheels/Tires
JDM GroupN rotors
JDM GroupN calipers
Hawk HP+ pads
SS lines
ATE Superblue fluid
SpeedLine 15×7" Corse 2020 cast magnesium
BBS 17×8" STi – Tarmac
Hankook Ventus rs202 Gravel tires
Kumho KW19 studded Snow tires
ToyoR888 Tarmac tires