Today we have a new feature on a car that isn't a GD, but a GR whose owner has an interesting flare all his own. This 2011 World Rally Blue STI sedan is an eye grabber two and three times over. If you see this beast driving by not only do you look back for seconds, sometimes you find yourself guilty of thirds. His name is Ivan Tukhtin, and if the looks of the car don't catch you then the sound of very loud and typically very Russian music will. Ivan is also quite interested in photography, so rather than shower you with my shots for this feature; we will use all of his own.
Day one started off as normal as it can, for a Subaru owner.
Take a look at the rest of Ivan's car by hitting MORE.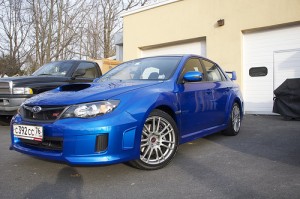 Ivan was quick, however, to express himself through his car. These Enkei GTC-01 18×9.5 +38's fit his personality spot on and were, of course, neon green.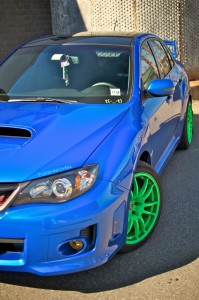 Fortunately for us, Ivan loves a good set of wheels and it was soon time to part with his Enkei's in favor of something a bit bolder. Enough of my blabbering, let's hear what Ivan has to say about his ride.
Introduce yourself, reiterate name, age, where you're from, and your interests.
 My name is Ivan, otherwise known as Jive turkey on all the forums I troll and post in. I'm a 21 year old senior at Rutgers in New Brunswick and am in the process of applying to law school, meaning that the car will soon be put on the back burner of my mind as I have a lot of work to do ahead of me.
I'm from Russia, Yaroslavl to be exact, and I can't be prouder of that. I've heard every soviet joke there is, not funny. I currently reside in Jersey and before you ask, no it's not actually as bad as they say. I love it here, minus the terrible roads. My interests are that of any other gear head/car guy I know. They revolve around eating, wrenching, shooting cars, etc. and just having a good time. It's really hard to write about yourself and not sound awfully stuck up so I'll just leave it with the fact that I love to laugh and you can go from there.
 Say what you love about Subaru and what made you want to get into the game. 
I can't say that a Subaru was the first car I wanted. My good friends are all from various car scenes, mostly the Audi/VW scene so I honestly was in love with GTi's and Mini's for a while. I came close to having an MkV as a first car but ended up with an RX300 instead. I didn't stumble across Subaru's until maybe senior year of high school when my buddy got a WRB bugeye which I immediately fell in love with. It was stage 2 with a vf43 and a 38mm EWG. That thing was awesome. Driving it for the first time changed my opinions of Subaru's forever, until then I thought they were only good at making Outbacks.
It was all downhill from there, and I had been saving since I can remember for this STi and I still am in shock on some mornings that at 21 I own (5 years of payments to go!) a car like this. Before I even bought the car I was stockpiling random things like gauges and etc. because i couldn't pass up a good deal and I knew that it wouldn't stay stock. The mod bug bit before I even bought the car. I've been trolling NASIOC for even longer than I've loved Subaru's, always reading so that I knew how these cars worked.
Basically to sum up how I got into Subaru's it's simple, go drive a GTi or a civic Si but make sure you try to find a modded one. Then go drive an STi or a WRX and you will fall in love instantly. I can't say I hate any specific cars though, like I said I came from a very varied group, as long as you're not stuck up and have respect, I can appreciate any car. After all we are all enthusiasts, but to me there is something about that rumble, the AWD, and the community that will keep me in the Subie game for a long time.
how she currently sits.
As she sits now it is as close to my dream aesthetic setup as I can get it. The new wheels that have only been on a week are Work Emotion XT7's in bronze, 18×9.5 +38 in stock 245's. Before I even was into cars I remember seeing these wheels on a Silvia and I was in love instantly. They have always been on my mind but for me, between working and school, Work wheels weren't on my list of wheels for a while. Lets start with how I got here.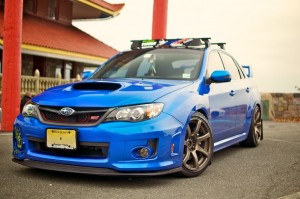 First off, this car came with summer tires and I bought it in the dead of winter, thus it was a no brainer that the stock 18×8.5 Enkei's became my winter set which I wrapped in Pirelli winter performance tires. I picked up the car December 11th, 2010 and before that winter was over I was desperately searching for a set of wheels for the summer, at the time nothing I liked I could afford, and everything else has been done so many times on these cars it made me sick, I didn't want Grid's or G Forces but couldn't exactly afford something I really wanted. I came across the neon green Enkei GTC-01's on a private sale thread and I had to have them. I've never seen them on a Subaru, and many of my friends said I was out of my mind, but I pulled the trigger and they were here in no time.
 Honestly I can't say I've had issues fitting them. Before they even came in I rolled and pulled my fenders flush because I didn't want to have any issues, and I'd have to do it sooner or later. These new GR chassis Subaru's, especially the STI's and 2011+WRX's have such wide fenders it amazes how easy it was to fit these. They were 18×9.5 +38 and fit with ease. The blue on green was an instant favorite of mind. I miss those wheels so much as they snapped necks left and right, I never had a day when someone didn't say something to me and whether it was nice or outright rude, it's nice to hear either way.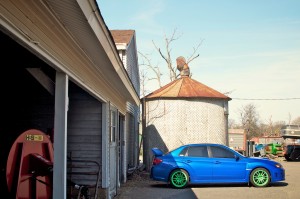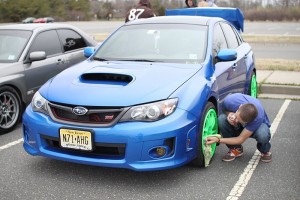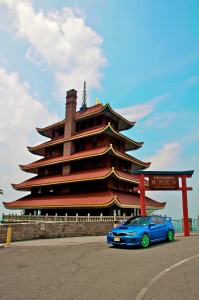 Before I sold the wheels I had picked up BC/BR coils (8k/10k) and had one last shoot with the wheels that I did at a historic location. The car was sitting pretty but as they say, all good things must come to an end and these were sold. Luckily though I stumbled upon one of my dream wheels, the Work Emotion XT7's before I even sold the Enkei's. I jumped on those wheels. Thanks to Steve for being patient and selling them to me! I got them in three weeks after I sold my Enkeis and in the time being I was slumming it on my friends Work Emotion XD9's. All joking aside the XD9's looked amazing on the car but just weren't my style.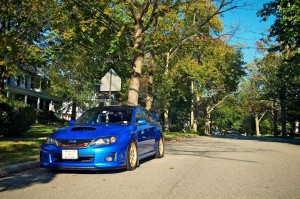 The Work Emotion XT7's came in, and I couldn't get to the local shop fast enough to mount them up. BIG thanks to Bruno and Walter over at Imprezzive automotive in Cartaret, NJ for helping me out with my wheels and rubber, would not have done it without you guys. So this little story brings me back to the beginning, the car's height, rake, and wheels are where I want them. The rest is a work in progress.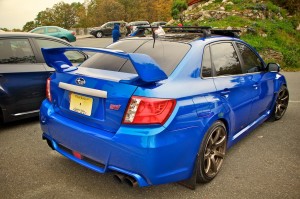 future plans for the car itself
Honestly, I couldn't even tell you. I don't have a modding style, as in show or go, I like it all. I like to shoot and look at it, but I love to be able to actually drive it too. My first time at the track over at lighting in NJMP was an eye opening experience, where I learned you don't need a fast car to be a fast driver so I'm not obsessed with power, but rather I'm obsessed with a good balance and the endless knowledge. It's not about power, or numbers, or bling or "mad tight" JDM parts for me, it's about the knowledge and understanding. The sheer amount of knowledge of the people who race cars I find mind blowing. Driving is easy; driving fast is an art that I will eventually try to be decent at.
Some things I have planned soon are minor. I'd like to finish up the suspension with sways, end links and so some bracing. Power wise I'm thinking of doing GroupS headers with a tail 38mm EWG/Grimspeed UpPipe, maybe injectors. Honestly some days I feel like the car is slow, other days it surprises me. One thing that is definite is new tires, the stock tires are not only loud as all hell, but are also not meaty enough. My plan is to wrap the 18×9.5 +38mm Work Emotion XT7's in a 275/35/18, a proper fitment.
As far as my aspirations for the car I really just want to do my own thing and not follow in someone's footsteps. It's really hard to stray from the crown in a group as big as the NASIOC and IWSTI forums, but it's something I am trying to do it. I refuse to be another WRB on gold STI. Yes it looks good but it's not my thing, which is why the Work Emotion XT7's will be powder coated in the winter along with other various goodies that will go on the car. What color? You'll have to wait and see (ED: Not too long, just keep reading).
In the end, this car is a dream come true and I can't thank all my friends (you know who you are) enough for helping me wrench on the car late into nights rain or shine. I can't leave the parents out of this since they let me stash parts in their basement. Also big thanks to AZP installs for putting up with my 'genius' ideas and Imprezzive for helping me with the wheels/tires. All of you guys have been a big help and inspiration I can't soak up the knowledge fast enough from a lot of you guys!
I can't say I will ever be "done" with the car as there is always something to be done or changed but there will be a time when I'm content. Next year I plan on tracking it a lot more to get some driving under my belt, after all why do all of this for it to only see the street? I don't believe in messing around on the street, yes we all do some pulls here and there, but I refuse to push it on public roads.
I hope you enjoy the car and the pictures as much as I do since they were all taken by me. The gear is pretty basic, I'm using a Nikon D5000 with a Tamron 18-270 3.5 and a Nikon 35mm 1.8. Between detailing the car and shooting it it's almost a full time job keeping her clean. Luckily my girlfriend is beginning to understand my ways and I can't thank her enough for understanding when sometimes the car takes rank above her or when I'm running late to important dates and things because of issues with the car. I think she know who the real woman in my life is, no guys it's not the STI, or is it?
I can go on for hours talking about the car and mods that went into it or ideas but I'll try to keep it short. Do what you like and keep yourself happy, and even though it's just a car, it means a lot to all of us gear heads who put in the time and effort to be appreciated. Thanks for everyone who actually takes the time to read this. Hopefully I'll meet you guys at meets or see you around, feel free to say hello, I'm as easy going as they get, just don't touch the car!
I am excited to see all the things Ivan is going to bring to the table with his STI and know that the likely hood of a "final product" with this car is very slim, because as we all know, no car is ever really "complete". This isn't the last time we will hear from him either, since there's no doubt in my mind that many track days lay in the future and I'll be right behind him. (ED: After the main interview with Ivan has has added the Grimspeed goodies he was looking to add along with the EWG. He's also now tuned by EFI Logics)
The List:
 
EXTERIOR:
Hella supertones
Debadged
RA mudflaps (black with red)
3k hid fog lights
20% tint all around
Vinyl gloss black roof
JDM rear foglight
Thule roof rack with Thule 38′ fairing
HPT motorsports front lip
R205 badges
Yellow over layer fog lights
INTERIOR
Hard wired radar
Setting saver
Armrest extender
WCLathewerks 3′ brushed aluminum shift extender
3M Di-noc interior trim wrapped
Recaro headrest pillows
Killer B Automotive sphere shift knob
Defi advanced CR 60mm boost gauge
AEM UEGO 52mm wideband
gauges mounted in custom cut above rearview mirror pop from Fast WRX
POWER/DRIVETRAIN
TWM SS
Kartboy Front & Rear Bushings
COBB SF Intake + Airbox
Magnaflow 3" CBE
Invidia Ceramic Coated Catless Downpipe
NGK one step colder spark plugs
Walbro 255 fuelpump
Grimmspeed ebcs
Grimmspeed IWG block off bracket
Grimmspeed uppipe/dumptube
Tial 38mm EWG
GFB stealth fx adjustable recirc/hybrid BOV
Gold heat tape TMIC
Engine enamel on y-pipe/STi logo on tmic
SUSPENSION
BC BR Coilovers – 8K/10K
GTspec front strut bar
GTspec H-brace
Perrin 25mm front sway
Perrin 22mm rear sway
Kartboy front and rear endlinks
WHEELS/TIRES
Current
Work Emotion XT7 18×9.5 +38 in custom florescent highlighter yellow Wrapped in Sumitomo HTR Z III 275/35/18
Past
Enkei GTC-01 18×9.5 +38 in Neon Green
Work Emotion XD9 18×9 +43 in Gold
Work Emotion XT7 18×9.5 +38 in Bronze
Winter
Stockers W/225/40/18 Pirelli SottoZero Snow Tires
The Shots:
With the Enkei's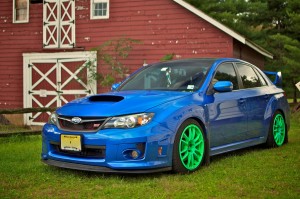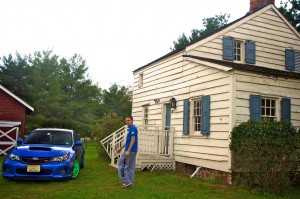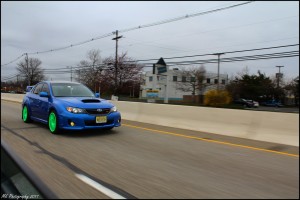 Interior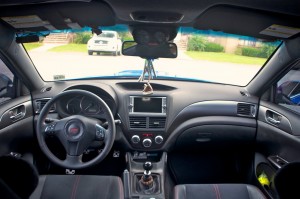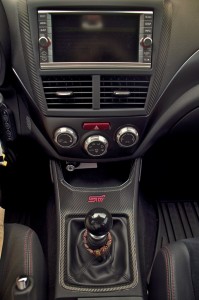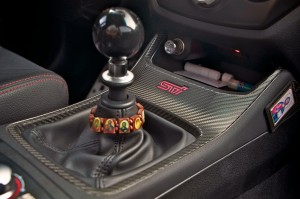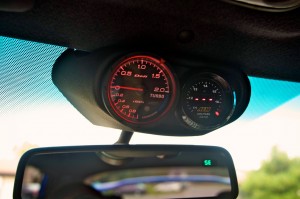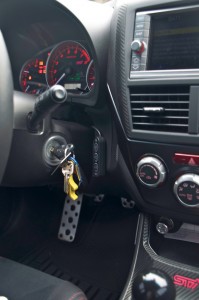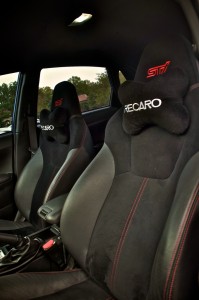 With the XT7's at "The Pagoda Run"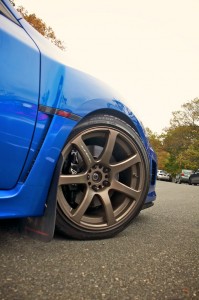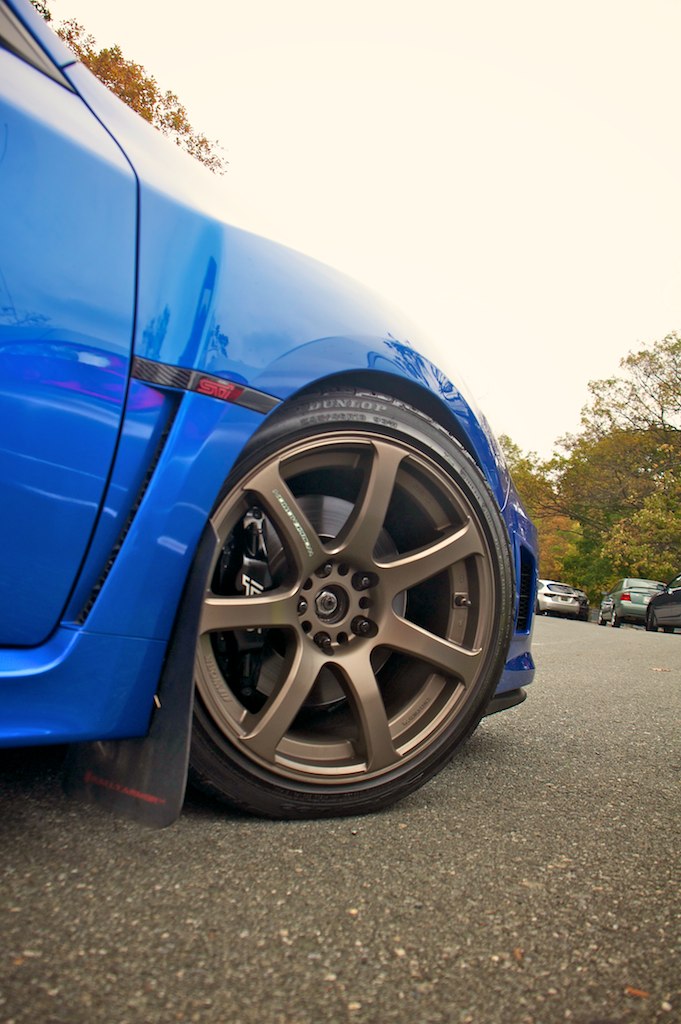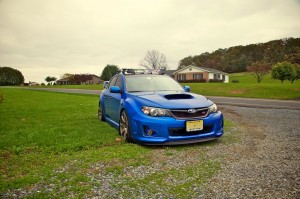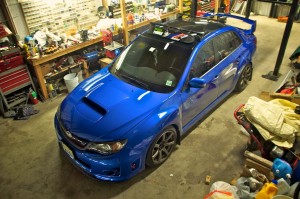 Current XD7s New Color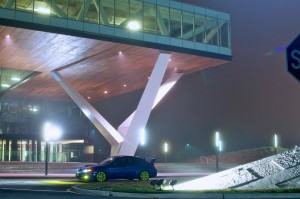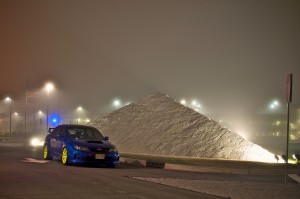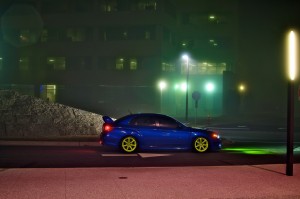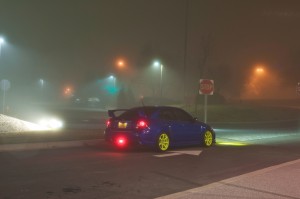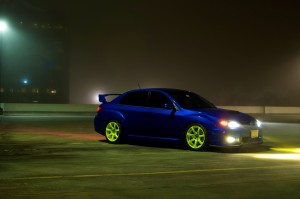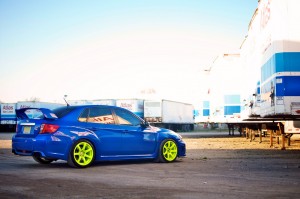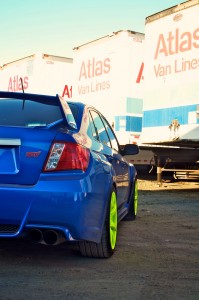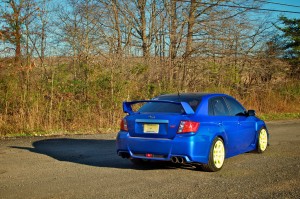 – The Madman.
http://www.flickr.com/photos/ivan_tukhtin/