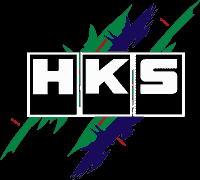 HKS Equal Length Stainless Steel Manifold Review
Lets start with the basics.
I grew to love the boxer rumble when I first bought the STi. I thought it was a pretty unique sound that made my car sound much faster than it really is, similar to a car with a massive cam in it. After doing much research, and looking at all of the higher HP builds, it seemed to me that a lot of people were going the Equal Length route. Afterwards, I looked into it, and the sound was very unique to me. I wasn't sure if I liked it at first, but I damn well wanted it. For those that remember me a few years back (in 08), I was really into an EL header, but never pulled the trigger on it.
Well, now in 2012, I finally did. When I was shopping for a new header, I had to make certain of a few things. It had to be an Equal Length, it had to be durable, and it had to be compatible with my setup. Unfortunately, due to my P&L Up-pipe, I couldnt use the Tomei/GT Spec header due to their 3-bolt design. Tomei is a great player in the aftermarket world, and I was a bit bummed when I couldnt use it for my car. Then, I wanted something that would last. On the internet, there are plenty of companies advocating their headers as being the best out of the material they use. 304SS seems to be a common type of steel because it looks the prettiest and has good corrosive properties. Well, out of curiousity, I was looking for different headers and came across the HKS Equal Length Header, and it was made out of 409SS. I had heard of 409, but never looked into it. 409 is basically what the OEM exhausts use, with it's drawback being that it looses it's appearance-factor by sometimes drawing in an light surface rust. Another aspect of the HKS header that I really liked was the fact that there were welded on brackets on the actual header. Now, I certainly do not know if they will actually alleviate the risk of cracking, but the way I see it, is that it does, and that makes me feel much better. It honestly looked like someone was actually taking into account that a lot of the problems in the EJ world with a header are revolved around cracking and longevity. By this point, I was sold and decided to do some digging. Couldnt find much on IWSTi, so I went to NASIOC. There were a few reviews in regards to it, with an owner logging 40,000 miles on one without breaking. I used a coupon code for Rally Sport Direct, and ended up buying the HKS EL Header.
In about 4 days, it came.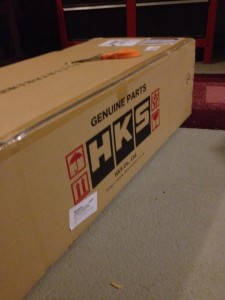 It was boxed up REALLY nice. There was a bunch of padding on the inside.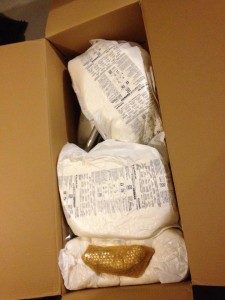 Included in the contents of the box are the following:
– HKS EL Stainless Steel Manifold
– Heat Insulator (adhesive apply)
– SUBARU OEM Manifold Gaskets
– 4 Worm Drive Clamps
– Metal Shielding
– Instructions
Inspecting the Header immediately, I found a few things that I liked.
Weight: If any of you have ever felt the OEM manifold, it is heavy as ****. There are no ways to circumvent that, the OEM manifold is just… heavy. The HKS EL header wasn't CRAZY light, but it was pretty light. With everything, the box weighed 20.6 pounds.
Bracing: The brackets that are welded throughout the piping look great, and look functional. I had a friend who went through 3 APS Manifolds, and all of them cracked. This makes me feel really good about this purchase.
Included hardware:Â The fact that I didnt have to run to the dealer to get the OEM gaskets is a plus. The Box had everything you need to install the header.
I took a few pictures after I opened the box. Picture dump commencing: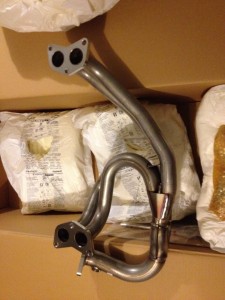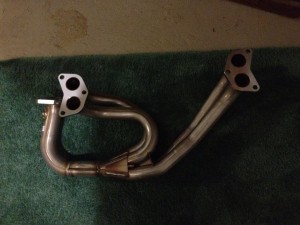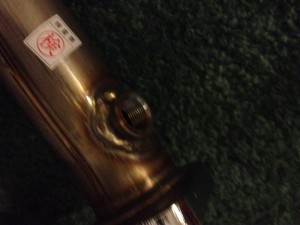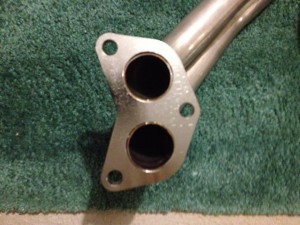 I am still sold. Now, keep in mind that HKS says that this header is for the 08+ STi, but I can confirm that it will fit my 05 STI, and really all the triangle Oil pan equipped STi's.
Onto the Install….
Normally, I do all my installs in my garage at home, but since my OEM Manifold had 131,000 miles on it, and I do not have any air tools, I figured it'd be much more trouble than it would be worth. I had TachMotorWorks install the header, and by the looks of it, they installed it in like 30 minutes. Everything matched up real well and it was ready to go on the dyno.
The Sound of the HKS EL Header: One thing that i was incredibly concerned about was the sound that the STi would make with this new header installed. I have heard some god-awful EL header setups on the STI, that sound like a buzzing bee, but I have also heard ones that make the car sound like a straight piped Porsche 911 Turbo. As soon as i heard the car start up for the first time, I was IN LOVE. It sounded amazing!
Here are 2 clips of the STI on the dyno. I have a Tial 44mm Wastegate, so for those who have never heard one, that is the loud bwahh that comes in once the car is under load and hits a certain boost pressure.
Power Differences? This is more-so subject to my butt dyno than anything, as I got tuned on a Dynojet, and my previous tuning was done on a Dyno Dynamics. The only thing that I can say, is for a stock turbo car, i'm making 370wtq by 3200rpm's. (I will update with my dyno sheet scanned asap). The car hauled ***, and kept pulling all the way to redline, which is something that is very rare from a stock turbo vf STi. The car on the basemap made a lot of power, and that made me instantly know that this header was absolutely worth it.
From what I can tell by the Power Curves of my last 2 dyno sheets, the New set-up just makes more power/torque everywhere. The Dynojet @ TMW reads lower then TheShops Dyno Dynamics, so there is quite a discrepancy in the numbers, thats just about the only problem with the Power Difference that I cannot include an actual conclusion.
Conclusion: I think that this header is an excellent piece of work. Sure, it's not pretty 304SS, but it gets the job done. I made a significant increase in power and torque, and that alone makes me happy. For the price, this HKS cannot be beat. Are there manifolds in that 1,000+ dollar range? Yes. Are they good? Yes I'm sure. However, for me, I am a man of simple taste. I thought that the HKS did it's intended purpose.
I will of course update this journal after the next time I do an oil change, so I can show you all what it looks like installed, and with the proper shielding.
I will give the HKS Manifold an A mark for being an affordable, well made header.
I hope most of you found this very helpful.
Boris