Revolutionary Sports Team is a US based group that focuses on extreme sports competition including freestyle skiing, alpine mountaineering, and endurance sports. However, at the forefront of their efforts is performance rallying. The team owner and driver, Sam Albert, is a U.S. Army officer who got into stage rally racing in early 2009 when he began converting his 2004 Subaru STi into a full fledged open class rally car. Almost a year later he entered his first competition, Sandblast Rally 2010, where he placed fifth overall. 
In 2011, Revolutionary Sports Team was officially stood up and a permanent codriver, George Loef, was signed to the team. George is a senior Firecontrolman for the U.S. Navy, and the two have proven to be a perfect match for rallying since. The 2011 season brought several successes including two 2nd overall finishes that have brought them to 4th overall in the Atlantic Rally Cup in the AWD division which is sanctioned by NASA Rallysport.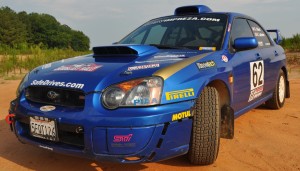 Due to scheduling issues the team missed the first two races of the season and their current position is testimony to the potential this team has. Rally of the Tall Pines is the final race for the team for 2011. The winter conditions will pose a formidable challenge but Sam and George are up to the task.
Their 2004 Subaru STi is prepared for Open class competition and includes the following modifications:
Engine:
Stock EJ257 Short Block
P&P Heads
TGV Deletes
VF39 w/ 34mm restrictor
Grimmspeed Phenolic Spacer
Short Ram Intake
Cobb Accessport w/ Topspeed Tune
Cobb lightweight crank pulley
Cobb Catted Down and Intermediate Pipe
Custom Straight Axelback
Group N Engine Mounts
Mishimoto Radiator and Hoses
Motul 300V 15w50 Racing Oil
Killer B Motorsports oil Pickup and Baffle
Transmission and Driveline:
Whiteline Shifter bushings
Group N Pitch Stop Mount
Exedy Stage 1 HD Clutch
Q-Rack Quick Steering Rack
Whiteline Steering Rack Bushings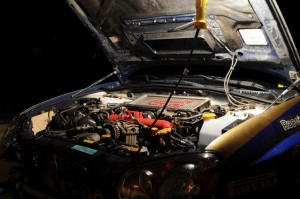 Suspension and Brakes:
RS&SP 1-way adjustable gravel coilovers
Group N top hats
4 pot front brakes w/ Ferodo 2500 pads
Modified Brembo rear w/Ferodo 2500 pads
Hydraulic E-brake w/ Wilwood Master Cylinder
ABS Delete
Internal stainless brake lines
Braided stainless brake lines external
Wheels and tires:
Braid Safari gravel wheels
Lassa Rally 3 or 4's gravel tires
BFGoodrich G Sport gravel tires
Yokohama A034 snow tires
ARP Wheel Studs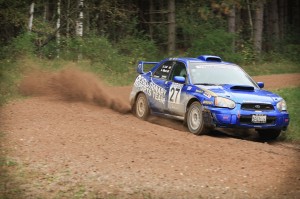 Structure:
Autopower/Jackson Rally Roll Cage integrating all suspension points
Custom aluminum skid plate w/ mount
HDPE Custom cut underbody panels
Primitive rear differential guard
HDPE Replacement front fender liners
Lighting:
4x Soltek Forerunner HID driving lights on bumper beam replacement mount
Interior:
Aerosim Research Carbon Fiber door cards
Racetech RT1000 Race seats w/ aluminum rails
G-Force 6 pt harnesses
Terratrip Rally Computer
Terraphone Intercom
Future plans for the car include standalone engine management with Antilag, upgraded differentials and differential controller and an expanded race program including Rally Mexico as early as 2013. Revolutionary Sports Team is currently looking for sponsorships and can be contacted at revolutionarysports@gmail.com.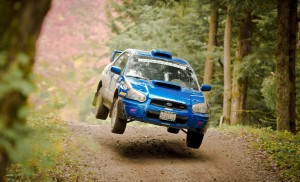 Revolutionary Sports would like to thank Valkyrie Motorsports for their rally service support. Owner and master fabricator Dylan Costello has served as the team's Crew Chief for the majority of their rallies since 2010.
To find out more information about the team please visit their Facbook page at Revolutionary Sports Facebook Page where you can get the latest news and race day coverage of the team's rally efforts.
To watch more videos of the team please visit their YouTube Channel at Revolutionary Sports YouTube Channel where you can watch the latest videos of the team's rally efforts.
Revolutionary Sports Team is going to be fun to watch over the next year, I'll try and keep everyone updated as they progress over next season. It's awesome to see an STi getting out in the dirt. Lets see if we can help Revolutionary Sports' Facebook Page and YouTube Channel pick up some new followers.
Keep it up guys,
T3h_Clap