2004 Subaru Impreza WRX STi done right. Matt has been in this game for along time, Matt has had his Subaru Impreza WRX STi for over 7 years now. The list of guys who bought their 04's new and still have them and still modify them is slim. Matt is currently on his 4th wheel/tire/suspension combo. Â With only 31k miles on Matt's Subaru you probably guessed it isn't his daily driver. It's one of the lower mileage 04 STi's I've come across in quiet awhile.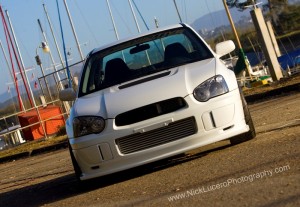 Matt's car gets to see some track duty so you'll notice he likes his R-Comp tires, between the Yokohama Advan A048 and the Toyo R888 he's used to having some extra grip. This Subaru Impreza WRX STi has grown, from the stock 17×7.5s to some 18×8 Enkei RPF1s then some 17×8.5 Advan RGs (original RGs) and lastly some 18×9.5 +40mm Enkei NT03+M in SBC. To get the 18×9.5 +40mm Enkei NT03+M to fit his car Matt needed 10mm spacers up front (to clear the brakes), some fender work, and some tweaking of his Zeal Function v6 coilovers.
2004:
suspension: STi "Pink" springs + Cusco front/rear swaybars(courtesy Myles of Racecomp Engineering),
wheels: stock BBS
tires: stock 225/45/17 RE070
2005:
suspension: Zeal Function v6 coilovers, 8k/6k spring rates(courtesy Myles of Racecomp Engineering)
wheels: 18×8 +45 Enkei RPF1 in silver
tires: 235/40/18 Falken Azenis RT615
2007:
suspension: unchanged
wheels: 17×8.5 +43 Advan RG in gold(courtesy Adam at World One, off his own Java Black 2004 STi)
tires: 245/40/17 Yokohama Advan A048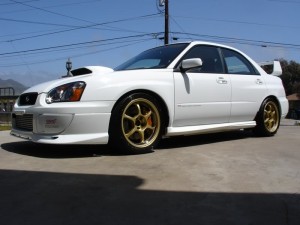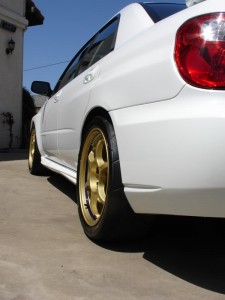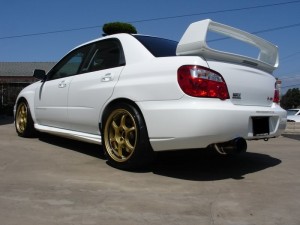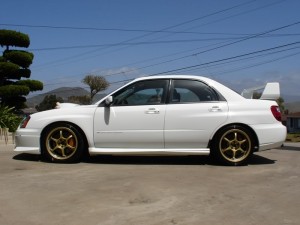 Powertrain & Drivetrain
• 100% stock motor internals
• 100% stock clutch
• Gruppe-S v2 header(uncoated)
• Ultimate Racing EWG uppipe with TiAL 44mm wastegate(dumping to atmosphere)
• Deadbolt SZ55 Fatboy turbo("limited edition" 18G compressor cover   )
• Forge Motorsport bypass valve
• Helix catless downpipe
• Custom Magnaflow canister-based resonated catback
• Perrin FMIC
• Perrin turbo inlet tube
• Perrin BigMAF intake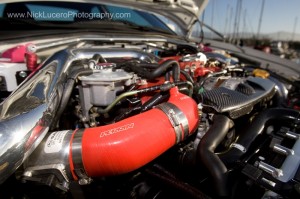 • PE850cc injectors
• Walbro 255lph fuel pump
• Hallman Pro manual boost controller
• Koyo radiator
• Crucial Racing cool thermostat
• NGK Iridium one step colder plugs
• Cusco oil catch can
• STi high pressure radiator cap
• Process West front mount oil cooler
• Samco radiator hoses
Engine Management & Tuning Info
• Cobb Accessport v1
• ProTuned by Dan Harman of Harman Motive in August 2005
• 375whp/383wtq @ 21psi – 91 octane
• 404whp/404wtq @ 25psi – 95 octane (smooth, "trackday" tune)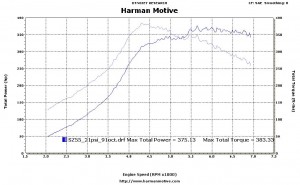 Suspension & Braking System
• Zeal Function V6 coilovers – 8k/6k spring rates
• JDM STi front and rear strut tower bars
• JDM STi lateral links
• JDM STi trailing arms
• Cusco version II lower front brace
• Cusco front swaybar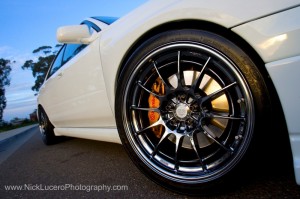 • Cusco adjustable rear swaybar
• Whiteline steering rack bushings
• Goodridge stainless steel braided brake lines
• Pagid Blue racing pads(for trackdays only)
• Motul RBF600 brake fluid
• -2.2 f, -2.0 r camber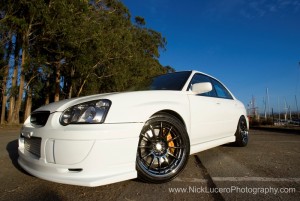 Exterior
• Cusco front lip
• 5×100 18×9.5 +40 Enkei NT03+M in SBC finish
• 255/35/18 Toyo R888
• rolled rear fenders
• wingless RS trunklid
• KSTech painted hood vent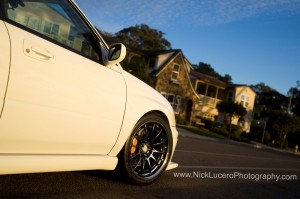 • GTSpec CF exhaust shield
• painted mirrors
• WRX sideskirts
• "home baked" cleared headlights
• pillarless grill, debadged, all body decals removed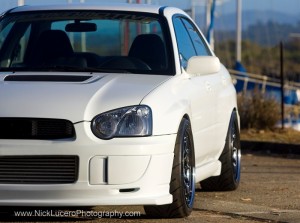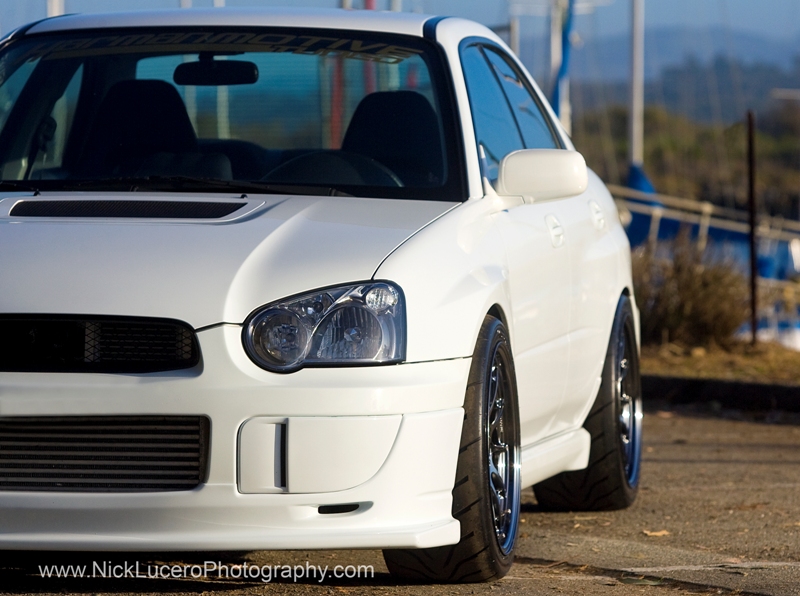 Interior
• JDM STi Delrin shift knob
• Defi 60mm BF Amber guages(boost, oil pressure, EGT) + Control Unit mounted in glove compartment
• Defi triple 60mm guage pod(prepainted by Godspeed, now Tuning Factory)
• Valentine One radar detector
• Alpine 9837 CD/Mp3 player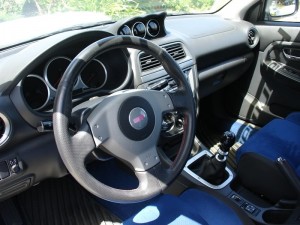 I love what Matt has done over the years and I hope he doesn't stop changing it up every few years. Now get out there and use those R888's!
-T3h_Clap