Logan's GR STI was voted the Top Scoob in Nasioc's world famous Top Scoob poll. Shortly you'll see why if you don't already know. It's rarely easy to modify a Subaru, Logan's GR STI is no different. It took time, dedication and a very thought out modification path. Logan stuck with it and is now driving around in a Top Scoob.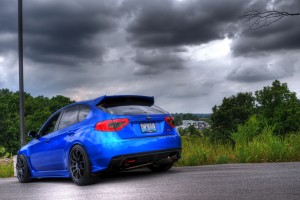 I've got the current Top Scoob himself Logan here to chit chat about his setup a little. This car looks amazing. skip the small talk, here is Top Scoob Logan's GR Subaru Impreza WRX STI with 18×10 Advan RZ's.
T3h_Clap: First things first, is this your first Subaru? if not, what are some of your other/older Subarus?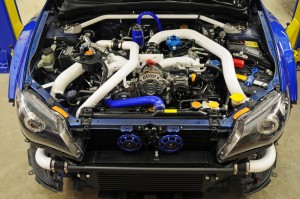 Logan: Yes actually, this is my first to car heavily mod. I was just planning on going stage 2 because I wanted something reliable and turbod and exhaust, but the Subaru mod fever struck.
T3h_Clap: why the GR STi?
Logan: I wanted a new engine to work with. Something that someone hasn't done a thousand times. So I got the new body style to create something different and I knew it would be fresh. I love the GD chassis, but i hope Subaru discontinues the hatchback sti soon. I want it to only be made two years. Kind of hoping its just a random quirky Subaru that wasn't over populated and over viewed. haha if that makes sense.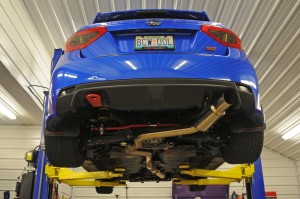 T3h_Clap: What did you build the car for? (Street/Track/Dual/Drag/Autox etc?)
Logan: Daily Driving, but the Track is where I am headed, so that's my next step in plans. Since I lived in Missouri, there are not any places to track, now in Florida I am trying to find some tracks besides Daytona.
T3h_Clap: What are the specs on your wheels/Tires? Any special requirements to get them to fit?
Logan: the wheels are Advan Rz 18×10 +30 tires are nexen 3000 (****ty tires, cause wheels cost too much ha) 275/35/18 and all four fenders are rolled to fit. Camber is -2.5 front -2.4 back. My ride height is just above slammed on the bc coils.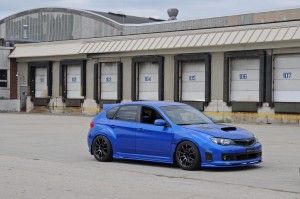 T3h_Clap: Any plans on going to a wider wheel/tire?
Logan: As soon as I finish school plan on fitting some 18x11s on there with 295s or 305s. Just to say it can be done, but obviously not for tracking.
T3h_Clap: Any plans doing competitive racing?
Logan: Not really, since I'm still in college for recording arts and music business, I'm going to pursue this for a while and the keep the cars hobbies and fun for now, would deff get out there when i have some down time at some Time Attack events or something. that would be the ****.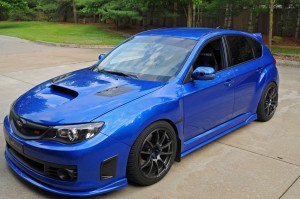 T3h_Clap: Where can people see the car? (meets/shows/track events?)
Logan: Every week down in Orlando, there is a Wednesday night meet at the sonic on south Semoran. And there is an AWD meet coming up. Also look for my car in Modified Mag thanks to Peter.
T3h_Clap: Quick blurb about you and your car, any notable hang ups, funny stories.
Logan: This car has been the biggest pain in the ass, but the most love owning it. Hauling it up to Chicago and watching Jorge drive away in your car after being tuned and watching it rip down the road. Makes me smile real big! But OMG! every install something weird and out of the ordinary pops up and causes problems. But that's part of it being a Subaru I guess.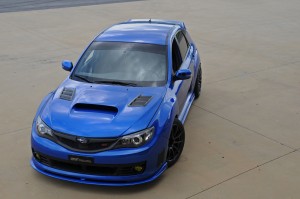 T3h_Clap: Shout out to Friends, Forums, Blogs, Sponsors, Vendors, Photogs, Family.
Logan: I would like to thank,
My family and friends!
Jorge and the whole crew at P and L Motorsports
Josh from importimage
Bryan from CVR Motorsports
Dave at SKPerformance
Perrin
TIC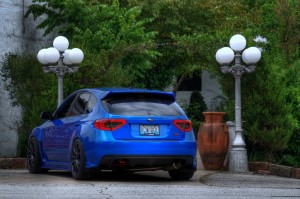 Great looking car, not hard to see why he won the Top Scoob title for best GR on Nasioc.
This is one hell of a mod list:
Pro tuned by jorge at P & L
Accessport Engine Management
Invidia N1 Race
Cobb Lightened Pulley
SPT Oil Cap
Samco Radiator Hoses
SPT Battery Tie Down
EBCS
Royal Purple 5W-30
Subtle Radiator Shroud
P&L FMIC
GT35R Rotated .82 A/R
P&L CAI
P&L Catless DP (ceramic coated)
P&L EWG Up Pipe (ceramic coated)
Perrin EL Headers (ceramic coated)
Pnp Intake Manifold
TGV Deletes (ceramic coated)
Walbro 255 Fuel Pump
Tial 44mm Wastegate
Tial 50mm BOV
Deatschwerks 850cc Injectors
NGK Iridium Plugs
Perrin Catch Can
Bride Cuga Front Seats
Bride Door Pulls
Bride Shift Boot
Bride eBrake Boot
Bride Center Arm Rest
Wedge Engineering Rails
Prosport Gauges:
Boost
Oil Pressure
Oil Temp
EGT
AEM Uego Wideband AFR
JL HD Amp with Custom sub enclosure with 12″ JL Sub
JL Cleansweep (to keep my Nav)
STI Red Pedal Kit
Painted Interior Pieces
DIY A-pillar Triple Pod
Viper 5901 Alarm System
Alcantara wrapped Steering Wheel
Cobb Double Adjustable short shifter
Kartboy Front Shifter Bushings
SPT Rear Shifter Bushing
Cobb Knob
IXIS Clutch Optimizer
Group N Tranny Mount
Group N Motor Mounts
Kartboy Crossmember Bushings
Kartboy Pitch Stop
ACT HD Street Clutch
Motul Gear300
Motul 90PA Rear Diff Fluid
Seibon CF CW Hood – Painted
CS Bottom Line Kit – Painted
15% Tint
Hella Supertones – Painted
Painted Grill
Painted Fog Light Housings
RA Mudflaps – trimmed
DRL Delete
Rally Yellow Fog Overlays
ROLLED FENDERS
Rear Wiper Delete
Perrin Shorty Antennae
BlueBatMobile Tail Covers
Angel Eyes from Lightwerkz
Smoked Headlight Relfectors
Smoked Rear Reflectors
Painted Logos/Badges
Nukabe Tow Hook
CF Front Bumper Vents
BC Racing Coilovers
Advan RZ 18×10 +30 in Gunmetal
Nexen N3000 275/35/18
Whiteline Camber Bolts
Front Camber Bolts
Whiteline Rear Subframe Inserts
Perrin Strut Brace
Perrin 22mm F Sway Bar
Perrin 22mm R Sway Bar
5Zigen Locking Lugs Blue
-T3h_Clap