This 2005 Subaru Impreza WRX STi you're about to see here has lived. It has had many different stages, I'd wager to say it has been re-born more than once. Currently the car is in the capable hands of Billy Muller, Billy isn't one of those young wippersnappers who found an STi on craigslist for $8k and started blindly throwing parts at it.
Over the years Billy's had some very notable wheel and tire setups, his current set is by far my favorite. 18×9 +45mm Enkei PF01s in Blood Red powder coat, paired up with a set of uber sticky 255/35/18 Toyo R1Rs and some KW V3 coilovers. This setup is perfect for what Billy wanted, aggressive yet not crazy, loads of grip but no poke.
Billy has been in this game for awhile. 05 WRB GD, 08 DGM GRB, 05 OBP GD, 07 OBP GD this may be jibberish to some, but to others this shows the timeline of Billy's Subaru obsession. He built an amazing WRB 2005 STi a few years back and I know for a fact he inspired a lot of other people with the Cusco Front Lip, GramLight 57Fs and multiple different wings.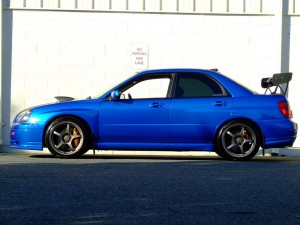 Currently Billy has a pair of OBP STi's (yes I said pair!!) one 2005 and one 2007, one nearly done and one just getting started. I'm going to let Billy take the reigns and explain abit about himself and his car's past, present and future. Take it away Billy.
Ok, so I'm Billy Muller, I'm 24 and I'm the used car manager for my father's Chevrolet Dealer in Stewartsville, NJ. I came into the Subaru scene in 2004 when I got a java black pearl 2004 Subaru Impreza WRX. I found out about the WRX and/or STI back playing Gran Turismo 2, along with the Evo. I told myself, one day I want to drive one of those cars, because they were so bad ass in this video game.  Well, they came here and it's basically all downhill from there (the mod bug stuck forever). After making the wrx stage 2, it was time for an upgrade. I traded the 2004 Subaru Impreza WRX in for my 1st STi (I've had 4 STi's in total), which was a WRB 2005. I did everything with that car, and had a well followed members journal on iwsti.com.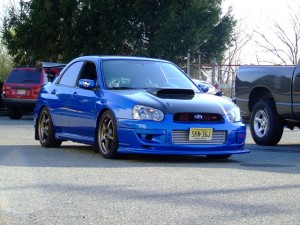 For a reason I don't know, I felt the need for a change and put the entire car back to stock and traded it in for a new 2008 Subaru Impreza WRX STi GR hatch. It was a really nice car, but I fell in love with the original car brought to the US. The GD just has the feel, and the look.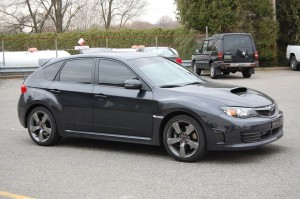 I went stage 2, added some suspension stuff and drove about 5000 miles. I soon put the 2008 Subaru Impreza WRX STi up for sale.
That is when I spotted a 2005 Subaru Impreza WRX STi for sale on ebay and the forum. I had to have it. I didn't care how far it was, it was a bad ass car. Long story short, when I got it, the motor was no good. Depressed after waiting for so long, I took the car to my friends at EFI Logics, since I know Chris already from xx tuning.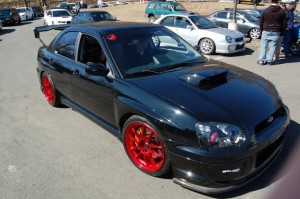 He told me they had to tear it down, it was spewing oil out everywhere, was smoking bad, and was very unhealthy. With everyone following my newly made members journal, the results were posted by pete at EFI. All four forged JE pistons were cracked, my bearings had heavy scoring, the cams had heavy scoring, the cylinder walls had scoring, it was a train wreck of a motor. With no where to go, they said what do you want to do? I told them, build it, use the good parts (the turbo and supporting components), and make me something better than this car was perceived. So the build began, I let EFI chose which parts to go with each other, after telling them what I expected from the car.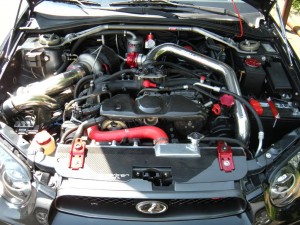 A little while later, Tina (Rob @ EFI names all his motors), was done and ready to be stuffed back in. I think my car was one of the first highly modded motors to come out of EFI, since they opened in 08, and everybody was waiting to see the results. After the break in, I had issues with my meth kit and my fuel pump was cutting out. I was disheartened following what EFI recommended, I made an appointment for installing an Aquamist HFS6 and for Jack (the fabricator) to add a Full Blown dual Walbro setup. I'm running 950cc injectors, and the fuel pump couldn't keep up with them, hence the reason to add a secondary pump. Finally, the day came for dyno tuning with the new setup.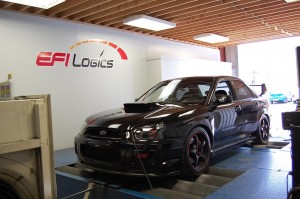 Final dyno numbers for my STi were 510whp/473wtq, one of the highest to come out of EFI. The dual walbros dropped my IDCs by 30% with tons of room left on the table. The only thing holding it back now is the actual turbo itself.
Now the car was in my hands, it was running great and has been ever since. I have changed the car's look numerous times, making it my own creation. Many people probably don't realize it was the same car featured in Modified Mag one year. My original plans for this car was to use it on the track, but for what it has been through, my mind has changed.
I recently acquired a 2007 sti as my daily driver with only 9000 miles…..STOCK! My mind changed and I knew this was the car to use. While my 05 would probably be a beast on the track, you don't see many 500whp sti's going around. Most at 350-400whp,with great response. The 07 is going to be that car. The 07 is going to be a fresh start for me, which I am so excited for. The 07 is going to be the track b***h, but with a full interior, etc. it's for those fun days, but hey you never know how it'll turn out. I love following Amy (StripesRX) and her racing and would love to follow her around to events and race in honor of EFI.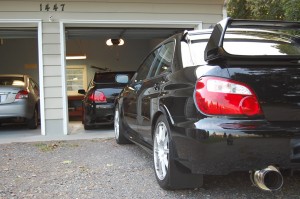 The 05 is going to be the garage queen, with the 54,000 miles she only has on her, tearing up the streets when she comes out. I still have some chargespeed carbon fiber pieces coming for it too. I think I'm going to add a bigger turbo and go for more power in the future too. You can't stop at 500whp. I want more than that lol.  Right now, I'm busy trying to sell cars in our economy and maybe soon, open a performance shop within the dealer.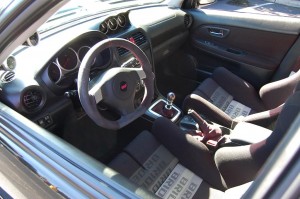 You can find my cars under VSGTS14 on iwsti.com and any time EFI Logics has an event, I'll be there. My 05 was featured in EFI Logics booth at Wicked Big Meet and The Mega Meet recently both cars will always see EFI Logics for all work performed, everybody should turn to them if you need a tune, a fix, or a parts inquiry, especially with JNA performance right next to them.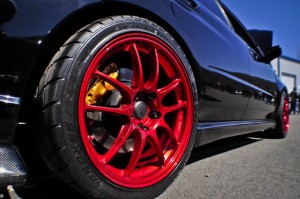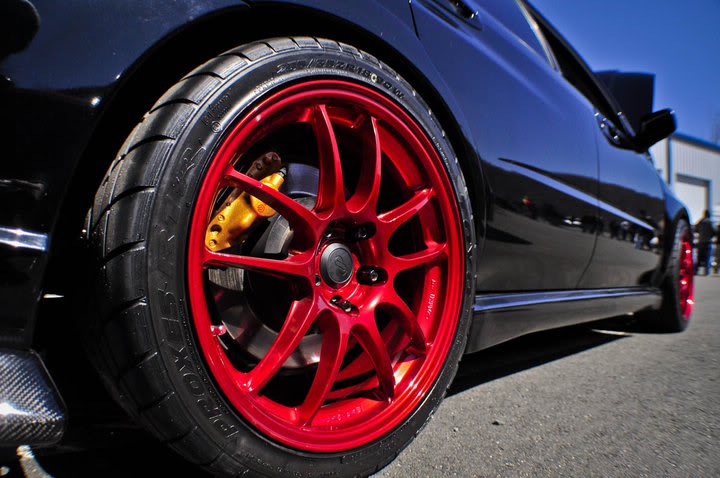 So a big thank you goes out to them for all their hard work and patience. I'd like to thank iwsti.com for their help and insight about parts and what to do and to the members I know on there. A thank you to my girlfriend who doesn't know one thing about subaru's, but likes to be around the scene and people. Also, thanks for T3h_Clap for my hundreds of pm's about wheel fitment for nearly every STi I have owned and figuring out what works and what doesn't!
 
 
MODS:
Engine
EFI Logics Built EJ25 Block – 93 octane + meth injection
510whp/473wtq @ 27 psi
COBB Accessport V2
Aquamist HFS6
Spec C Tank w/Meth
EFI Logics Special Pistons
EFI Logics Custom Fuel System w/-8 AN Fittings and Lines
Cosworth S2 Grind Camshafts 278/274 – properly sized valve buckets for optimal clearance
Supertech +0.5 Intake and Exhaust Valves – mild head port on exhaust side only
Supertech Titanium Retainer Seats
Supertech Valve Springs
Supertech Spring Seats
ARP Head Studs
Invidia N1 Race w/Ti Tip Catback
Ultimate Racing GT35R Turbo
Ultimate Racing Downpipe
Ultimate Racing 3 Bolt Uppipe
Ultimate Racing Reverse Flow Ver1 FMIC
Crawford Performance Ver.1 A/O Seperator
Custom 83mm MAF Housing – KS Tech
Full Blown Dual Walbro Pump Setup w/Custom Lines
Blitz SBC ID3 Boost Controller
TIAL 44mm EWG (Custom Dump Tube)
TIAL BOV
Thermo Turbo Blanket
Aeromotive Fuel Rails
Aeromotive Fuel Pressure Regulator with Liquid-Filled CHM Gauge
GT Spec Gen 2 Unequal Length Header
KOYO Aluminum Radiator
Moroso Version 1 Oil Pan
Grimmspeed Thermostat
JDM TGV deletes
Deatschwerks 950cc Side Feed Injectors
NGK One Step Colder Plugs
AR Fab Harmonic Balancer
ARC Radiator Cap
Braille Lightweight Battery w/EFI Logics Bracket
Perrin Radiator Hoses
Coolant Reservoir Delete
Gates Timing Belt
Kartboy Exhaust Hangers
KillerB Windshield Washer Tank
Carbign Craft Carbon Fiber Alternator Cover
Carbign Craft Carbon Fiber Radiator Shroud
Dress Up Bolts Polished Engine Bay Bolts
Project MU Brake & Clutch Caps
Exterior
Voltex Carbon Fiber Rear Diffuser
Syms Rear Spoiler
Syms Side Skirts
S2000 Retrofit Headlights w/Angel Eyes (Lightwerkz)
10% Window Tint
Debadged
Blue Bat's Tinted Tails + 3rd Brake Light
Black "I" Emblem
Black STi Billet Aluminum Front Bumper Trim
Carbon Fiber Front Lip
NRG Polished Hood Dampers
Varis Carbon Fiber Exhaust Shield
Interior
Bride Gias Low Max Seats with Gradiation
Blacked Out Interior w/Pass Through
PROVA D-Shaped Steering Wheel
S204 Style Flat Black Dash Trim
Aspec Titanium Shift Knob
AEM AFR Gauge
Autometer Carbon Fiber Gauge Pods
DEFI BF Amber Boost
DEFI BF Amber Oil Pressure
DEFI BF Amber EGT
DEFI Control Unit II
DEFI Triple Meter Hood
Fully Converted Interior Lights to Red courtesy of Interior Flaire
Subtle Solutions Ashtray Bezel (Black)
Auto-Dimming Mirror/Compass
Polished STi Shifter Surround
JDM Carbon Shift Pattern Decal
Autospeed Dead Pedal
TurboXS Knock Light
Passport 8500 X50
Forester DIN Pocket
Alpine iDA-X305 Digital Media Receiver
Alpine Type-R Speakers
 Drivetrain
Enkei PF01 18×9 +45 Powdercoated Candy Apple Red (Courtesy of EFI Logics & T3h_Clap)
Toyo R1R 255/35/18
Project Kics R40 Neochrome Lugs
Kartboy Short Shifter W/All Bushings
ACPT Carbon Fiber Driveshaft
Carbonetics Twin Disc Clutch w/Flywheel
Steel Braided Clutch Line & ATE Super Blue
Cusco Engine & Tranny Mounts
Solid Aluminum Pitch Stop Mount
TiC Outrigger & Tranny Cross Member Bushings
Suspension & Stiffening
KW Variant 3 Coilovers
RCE Camber Plates
The Car Labs X-Brace
COBB Front & Rear Sways
Perrin Rear Endlinks
Whiteline Sport ALK Kit
Whiteline Subframe Locking Bolts
Whiteline Adjustable Front Endlinks
Whiteline Adjustable Lateral Links
Offensive Power Front Fender Braces
JDM Titanium Front Strut Bar
Cusco Version 2 Subframe Brace
Brakes
Ferodo DS2500 Pads
Goodridge SS Lines
ATE Super Blue Fluid
There is no doubt that Billy's Obsidian Black Pearl 2005 Subaru Impreza WRX STi on Blood Red Enkei PF01s is well put togther. His engine setup, tune, exterior, interior, suspension, and wheels are all top notch. The guys at EFI did a great job on Billy's car, makes me want to send the t3hClap.com STi up there for a new motor. 🙂
I'll keep everyone posted with the progress of both of Billy's STi's and hopefully that will include some Autox, Track Day, and Drag strip photos next.
Billy, which wheels we thinking about for the 07? 🙂
[ad#Full Banner Text-Image]