Martin Sports Car Club POINTLESS December event coverage.
So far today we've seen the FTD change hands 10+ times.
Great turn out for a pointless event. Nearly 50 cars with 13 novices.
There are 3 BRZ/FRSs here, a supercharged LS1 powered Genesis coupe, 3 STIs, 1 high powered EVO 8, a slew of Miatas and flock of Corvettes.
I'll be snapping pics of some of the cars here over lunch.
Stay tuned for updates. Ill be posting the morning timed runs after I finish my sandwich.
-t3h_clap
Update:
I've got video from all 6 of my runs which I will post up once I get it edited. I may not do the datalogging as it has been having some issues lately.
A friend of mine, Eddie, has an 06 STi with similar power on 245 NT05s. Him and I were battling during the afternoon 3 runs. In the morning his tires wouldn't get enough heat.
We ended the morning session with Eddie down by .847 seconds.
The first run in the afternoon I was talking Eddie through his trouble spots on course, one being "the shoelace". He was turning in too soon causing poor setup for the following three gates (including the finish). Once He tried the later apex he went from a 41.002 down to a 39.8!!
My first run in the afternoon was a 39.6, Eddie breathing down my neck I tried to step it up and botched the entrance on more than 1 gate and pulled a 39.819. Eddie on the other hand managed to squeak down to a 39.239!!
Time to step it up, last run of the day, down by .4 seconds. I make my final run, the launch is decent and the car is feeling really good. I do "the shoelace" right and fly through the finish HARD on the brakes. BOOM!! 39.061!!
Question is will it hold? I quickly pack my car and run out to the course to watch Eddie run. Eddie's run is clean through the shoelace and I notice he's got the line right and he flies through the finish knocks off a 39.194!!
I inched out the win (2nd place in class) by .133 seconds.
Man that was fun.
You can see 5 of the 6 runs in this pic.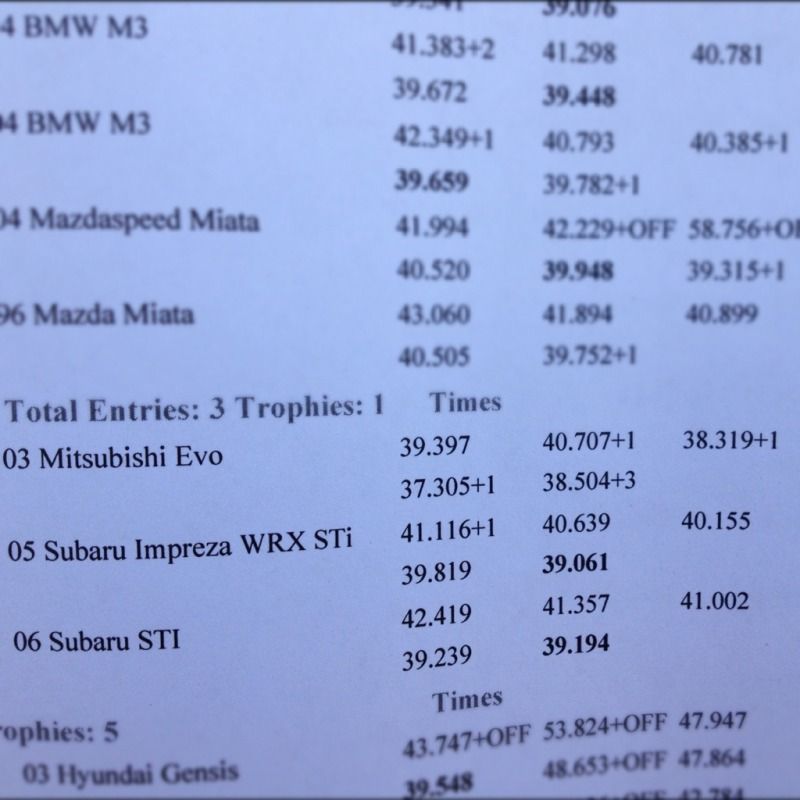 Run #6 Video!