The car is a 2006 Subaru Impreza WRX STi with a full Zero/Sports goodies and Volk Racing TE37s. Many people inside and outside of the Subaru community are familiar with the car that I'm about to feature (for a 2nd time). Bill Vitale has done it yet again, he sets the bar for Aggressive fitments. The first time Bill set the bar was over 14 Months ago with his 18×9 +29mm Advan RS's.  Bill's most recent overhaul included more than just fresh wheels and suspension. He decided it was time to go Rotated, a GT30R no less.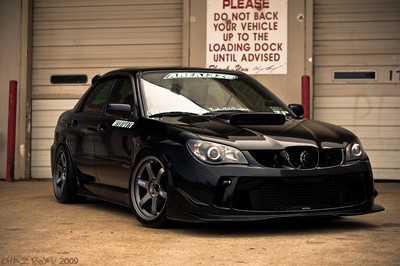 Getting an 18×9.5 +22mm TE37 with a 255 to fit on any Subaru takes considerable effort and planning. Bill, as always, was willing to do what it takes to have one of the most aggressive setups on an GD STi.
 
Bill's fresh new Engine bay oozes goodness, from the custom powdercoated Valve Covers and Intake manifold (Flipped of course) to the Polished Compresser Housing on his GT30R. Cooling is handled by the Mishimoto Radiator and a Perrin Front Mount Intercooler with Custom Piping from Area 1320. The Stance GR+ coilovers and H Kansai Service Strut tower bar finish off the engine bay nicely.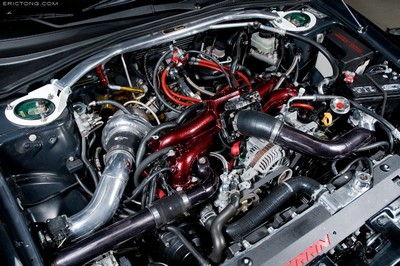 Bill took the prestigious award of "Top Scoob #013" this past week, His well thought out and prepped Subaru went head to head with multiple other highly modified Subarus. I have an incling it was more than just this photo that won "Top Scoob #013"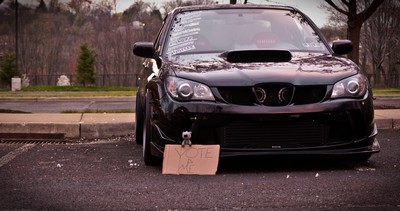 Winning Top Scoob isn't easy, the 18×9.5 +22mm Concave TE37s and the accompanying 255/35/18 Nitto Invo tires  didn't simply bolt on. Getting this setup to fit required some extensive fender modifcations from the Bill and Vitale Collision. The stiffness and adjustability from the Stance GR+ coilovers helped significantly in getting the Massive Concave TE37's to fit right. The coilovers allowed Bill to run a -3.0 front and -3.1 rear camber. The combination of the Coilovers, Fender Modifications and the Camber allowed Bill to run this crazy rarely seen aggressive setup.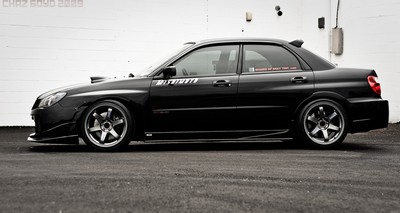 Floating around the internet I've seen Bill's car pop up on Japanese, Australian, Hungarian, Malaysian, and other Forums all over the world, these new wheels will only further the spread of this amazing vehicle. I can't wait to see more shots of Bill's car (hopefully some action shots at an upcoming track event!).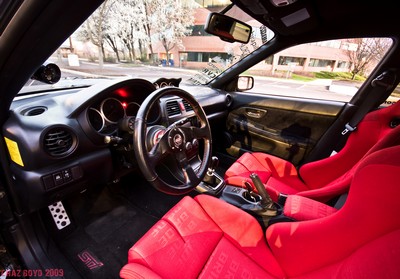 Below you'll see the "short" list of modifications Bill has done to his car…ahaha "short". 
Mod List:
Wheels/Tires/Alignment:
Volk TE37 18×9.5 +22 in Titanium Gunmetal
Nitto Invo 255/35/18
Volk Formula Floating Lugnuts
-3.0 Front Camber
-3.1 Rear Camber
Interior:
JDM Red Hazard Button
Bride Stradias in Hyper Red Gradation (2)
Black Suede Doorcards
Black Suede 02/03 Headliner
Black STi Limited Carpet
Works Bell Short Hub
Works Bell Red Quick Release 2.0
Works Bell Original Steering Wheel
Powdercoated STI Shifter Trim by LPC
JDM STi Type RA-R Shift Knob
ATI Gauge Pod
Defi Imperial BF Amber Boost Gauge
Defi Imperial BF Amber EGT Gauge
Defi Imperial BF Amber Oil Pressure Gauge
AEM Uego Wideband
Autometer Gauge pod
Painted Dash Trim
Pioneer AVIC-D3
Exterior:
Zero/Sports Front Bumper
Zero/Sports Rear Bumper
Zero/Sports Sideskirts
Zero/Sports Roof Vane
Zero/Sports CF Wing Garnish
TrueChoice Bumper Quick Releases
Autospeed STI License Plate Delete
04-05 Tail Light Swap
JDM Tail Light Mod
HKS Oil Filler Cap
Hella SuperTones powdercoated Super Chrome by LPC
Tein Bonnet Dampers
Red Lined Impreza Badge
JDM STi Radiator Cap x2
Mishimoto Temp Gauge Rad Cap
Perrin Black Radiator Shroud
JDM Subaru Rain Guards
Painted Headlights by Vitale Collision
Custom Red/Black STi Stickers by GraphicSTI
30% Tint by Ryan @ Shades of Gray
Roll Call and All Vinyls by Auditor Clothing
Performance:
ATP GT3076R .82 a/r w/ polished compressor housing and powdercoated turbine housing
TiAL 44mm EWG
TiAL Q BOV
Custom Downpipe by Area1320
Custom Up-pipe by Area1320
Tomei Expreme EL Headers
Reverse Intake Manifold powdercoated Lollipop Kandy Red over Black Frost by LPC
Grimmspeed 8mm Phenolic Spacers
TGV Deletes powdercoated Super Chrome by LPC
Custom Coolant Resevoir by Area1320
Dual Air/Oil Seperators
P&L Braided SS Power Steering line
P&L Braided SS AVCS lines
Agency Power Top Feed Fuel Rails
820cc Top Feed Injectors
Customer IC Piping by Area1320
NGK 1-Step-Colder Spark Plugs
Valve Covers powdercoated Lollipop Kandy Red over Black Frost by LPC
Honda Civic 51R Battery
Custom Cat-Back Exhaust powdercoated Lollipop Kandy Red by LPC
Customer Short Ram Intake
Perrin Signature Series FMIC
KartBoy Short Shifter
KartBoy Shifter Bushings
Suspension/Brakes:
Stance GR+ Pro Coilovers
Front and Rear Camber Plates
TIC Fender Braces
Whiteline Steering Rack Bushings
Perrin 25mm Adjustable Rear Sway Bar
Perrin Front Endlinks
Perrin Rear Endlinks
HKS Kansai Strut Tower Brace
DBA 4000XS Front Rotors
DBA 4000XS Rear Rotors
Powdercoated Stock Brembos
Hawk HPS Brake Pads
Goodridge Stainless Steel Brake Lines
Special thanks as always to:
Chaz Boyd photography
12Volt Perfection
Liquid Powder Coats
Area1320
Shades of Gray Tint
Turbo Tek Tuning
Auditor Clothing
Stance-USA
CVR Motorsports
Vitale Collision
EDO Performance
R/T Tuning
Mishimoto