Hey everyone. Karlton is going for Top Scoob 028 Stone Cone Killers!! Vote for PignoseSTI
Many of you are familiar with this car as it's been sprinkled all over the blog over the years. From stock body with a little pull, to crazy pull and 305s to the now famous Karlton Flares!!
Do vote, be sure to vote in each round. Right now (3/15/2012) they are in round #2. You can vote once each round.
Here's Karlton's entry form into Top Scoob 028.
______________________________________________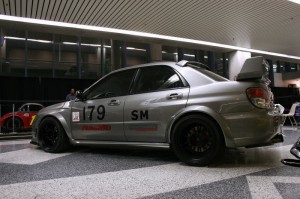 Hi my name is Karlton (yes the Karlton fender flare Karlton haha) and I bought my STI in November 2005 with 8 miles on it, broke it in for around 500 miles, then brought it out to it's first autox. Previous to this car I drove a DSP supra, GS Mini, and a ES MR2, all on race tires. Boy did the car not want to turn…….
Originally, the car was supposed to be my daily driver and remain stock, but after it's first autox, the mod bug bit me hard and I ended up building my car for the STU class. After a few years in the class, local competition dwindled and it was time to look for a new class to run in. SM looked well populated…..
OMG was that a bad idea. SM doesn't stand for Street Modified, it stands for Serious Money! There's a whoooooole bunch of things that can be done in this class, and I have been slowly building for the class as funds allow. So far, here's what I have done. All self-wrenched, but GST does my tuning. I'd blow up my motor lol
Engine Mods:
– Built shortblock – Darton sleeves, copper o-rings, JE 100mm coated pistons, BC pro rods, ACL race bearings, Nitrided crank, Cosworth modified oilpump, ARP headstuds
– Built heads – GSC S1 268/266 cams, Cosworth +1mm SS intake/ Inconel exhaust valves, BC valvesprings/Ti retainers, PnP, Bowl blend
– Full-Race twinscroll kit
– Garrett gt35r 1.06 twinscroll Ceramic coated (WAY too freakin big!)
– Tial 38mm mv-s wastegates
– TIGWERKS ewg mufflers
– Tial Q BOV
– PTP turbo blanket
– Custom 4" intake
– Hallman Pro RX MBC
– Perrin FMIC with stock bumper beam and counter clockwise flow piping
– Perrin lightweight crank pulley
– Deatschwerks 300lph fuel pump
– Bosch 044 fuel pump
– Custom surgetank
– SX adjustable fpr
– 07 STI top feed fuel rails (Aeromotive rails waiting to go on)
– 07 STI tgv deletes
– Hondata intake manifold gaskets
– RC engineering 1600cc injectors
– Full 80mm Magnaflow Ti catback exhaust with Burns Stainless mufflers
– Crawford Performance air/oil separator
– Hydra Nemesis full standalone
– Tune by Mike Warfield(GST Motorsports) on E85 fuel
– Odyssey pc680 battery
– KillerB ultimate oil pickup, baffle plate/windage tray, oilpan
Suspension
– Custom valved JRZ RS Pro coilovers with Hypercoil springs/ Eibach tenders
– Ground Control camber plates front and rear
– Whiteline 27-29mm swaybar front and rear, sometimes no rear bar
– Kartboy rear endlinks
– TIC lateral link bushings
– TIC front and rear trailing arm bushings
– TIC front control arm rearward bushings
– MSI Trailing Arms
– Whiteline roll center adjusters
– Cusco cf rear strut tower bar
Driveline
– ACT sprung 6 puck clutch
– ACT streetlight flywheel
– Torque Solution motor/pitch stop mounts
– Group N transmission mount
– TIC race rear differential bushings
– TIC outrigger bushings
– TIC bodacious bushing bundle
– Kaaz Super Q 1.5 way rear LSD
– Rallispec rebuilt center diff
– ACPT cf driveshaft
Exterior
– Genuine V-limited front lip
– Karlton fender flares
– Passenger side foglight housing
– Ravspec cf upper roof spoiler
Interior
– Sparco Evo2 driver side seat
– Sparco Pro2000 passenger seat
– Buddyclub super low down seat rail(driver)
– Wedge engineering/Sparco rails/sliders with aluminum sidemounts(passenger)
– Innovate Motorsports LC-1 wideband with XD-16 gauge
– Defi BF boost and oil pressure gauges with controller
– ATI gauge pod
– Rear seat removed
– Personal Neo Grinta 330mm steering wheel
– Work Bell/Splash hub
– NRG quick release
Wheels/Brakes
– Wedsport TC105N 18×10.5 +12 with Yokohama Neova AD08 285/30/18 tires
– SSR competition type c-rs 18×10.5 +17 with hoosier A6 285/30/18 tires
– Girodisc 2 piece rotors front and rear
– Hawk HP+ pads front and rear
Past Results
2006-2007 SFRSCCA STU Champion
2008-2010 SFRSCCA SM Champion
2006-2008 Multiple National Tour trophies at San Diego and Packwood- STU
2010 Norpac Divisional 1st – SM
2011 Sopac Divisional 1st -SM
2011 Nationals 6th – SM
2011 Nationals Results
2011 Subiefest Mod class 1st and TTOD
So 2011 was a tough year, as I had planned on driving my dad's DSP supra, but we could never finish an event LOL. Sucker kept blowing head gaskets. Took my car down to Socal for the divisional so that we would qualify for Nats just in case we could get my Dad's car running again, but the motor just kept saying no. When I decided that I was gonna take my car to Nats, I decided to build the motor to rev a little higher so I could gain a few more mph knowing I was really going to need it for Lincoln. This of course took about 2 months longer than expected, so I pretty much just threw my car together at the last minute and took it to Nationals. Usually you would want to go to the big show with a well sorted car that you've been driving all year and are used to, but oh no…that's not my style lol. Motor, coilovers, and turbo were all changed. My trusty gt30r turbo took a crap right after I threw the car together and tried to tune, so I borrowed a friend's GT35r as that's all I could get on a Wednesday night haha. Finished putting it together and did a quick tune Thursday night (nothing like breaking in a motor on the dyno haha), and took off to Nationals Friday 🙂
2012, my plans are to buy a smaller turbo, possibly a quick rack, drop a few more lbs since my car is currently about 3085lbs, and simply drive the car and get used to it again.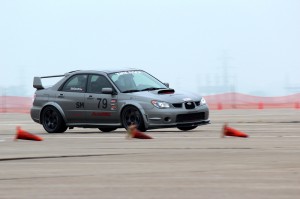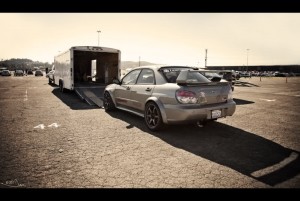 Oops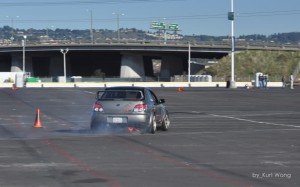 And some videos:
This was with the gt30 and stock motor

This was with the gt35r and built motor. Not me driving…..my legs are not that nice ROFL

First event of the year. Need to set my rear diff back to 100% lock lol

______________________________________________
Vote for Karlton, lets reward the racer who wanted fender flares, was willing to make them and then made them available to everyone!!
Go Karlton!!
-T3h_Clap