Everyone sits on the bench yelling back and forth about this, and that. Not enough power, needs AWD, shouldn't have Prius tires, why does it need rear seats, needs a turbo, the arguments never seem to end. Yet, ultimately none of this bench racing matters, because guess what? The 86 twins are awesome. There was never a car produced that made everyone happy, not one. Except maybe the Dodge Omni GLH that thing was awesome. Anyway, back to the topic at hand, Ivan's BRZ. Everyone who knows Ivan or has ever seen Ivan's old STI knew the BRZ wasn't going to stay stock for long. I'm pretty sure it was stock for all of 10 minutes.

Lucky for all of us on the interwebs we were all right, Ivan put his own personal flare on his BRZ and he did it quickly. I've been following Ivan's Subaru BRZ build for awhile now. He was one of the first to slap on a square 265 setup. He knew what he wanted to do with this car and he's done it. Very very well I might add.
Wrapped around a set of GramLights 57Extremes in 18×9.5 +40mm are a sticky set of 265 Bridgestone RE11s. This Subaru BRZ is suspended by a set of KW Clubsports properly corner balanced and aligned by the team at AZP Installs.
Ivan caught the highly contagious bug floating around, generally it's caught from close contact of other infected, I'm not sure if it's air born yet but be careful. it's called Alcantitus, it's the disease that forces one to cover every known surface with the glorious material normally reserved for super cars. Ivan chose Overland Designs to help cure his infection, unfortunately I'm not sure if he's cured yet. Considering he just installed a set of trick door pulls to top off his already wrapped door cards, center console, gauge hood, HVAC surround, and center vent, I'm almost certain there is more to come. Only time will tell. We all need to hope that Ivan's Alacntitus is cleared up soon, he's got track days to go to!
Exterior/Interior:
Fully Shaved front end by Vilar autoboy
JDM side markers paint matched
HPT motorsports front lip
HPT motorsports side skirts
HPT motorsports rear spats
Custom aluminum spliter + canards
20% 3m tint
Baked/painted headlights
Red out tails
Duraflex ducktail wing
Beatsonic sharkfin antenna
Rydeen Duo back up camera
JPM coach works Knee and speaker pads
Custom center console relocation with shaved push start and relocated heated seats
Genuine Alcantara wrapped cluster hood with red stitching, center vent with red stitching, center console, hvac surround, vents, one piece molded/wrapped stereo surround by @Overland Designs.
Genuine Perforated Alcantara wrapped door card trim and fabricated block off plates by @Overland Designs
Custom gt2 door pull conversion
Hardwired Valentine 1
Anarchy motive shift knob
AUS spec black interior trim
JDM foglight mod.
Grimmspeed hood struts
Lamin-x yellow fog overlays
Yellow stained glass DRL
Airhorns
Nokya yellow blinker bulb
Underglow
Power
Perrin un-resonated catback
Perrin black CAI
Perrin black silicone inlet tube
Ecutek- dyno tune by Mikey at EFI Logics 176/155
Suspension/Drivetrain/Brakes
KW clubsport coilovers
Group-N front top hats
GR Sti rear tophats
Whiteline positive shift kit
Whiteline rear diff inserts
Whiteline rear subframe isnserts
Whiteline Rear adjustable toe arms
TiC solid steering rack bushings
GS master cylinder brace
Kartboy rear shifter stay bushing
Cusco rear lower contorl arms
Front STi brembos
DBA4000 slotted rotors
Stoptech pads
SS lines
Super blue fluid
Wheels
Rays Gramlights 57xtreme 18×9.5 +40
Black w/red centercaps
265/35/18 Bridgestone potenza RE-11
The BRZ with its non turbo 2.0ltr is damn fun, it looks fun, it sounds fun and when you see it on track you can tell it's fun. Ivan's car has inspired many people to jump into the new 86 Sport Coupe, and if Subaru isn't paying him commission they should start!
Ivan wants to give out a few quick shout outs to the shops and people who've helped make the car what it is today.
AZP Installs for nearly everything not listed below and the alignment.
Overland Designs for the interior.
Anarchy for the shift knob.
EFI Tuning's Mikey Botti for the tune.
Remember, no car is perfect when it comes off the assembly line. Make it your own, make it something you love, and last of all drive the damn thing! Thanks Ivan for reminding us that this game has one thing at its core. Love of the cars. It's what makes a Subaru a Subaru!! (Maybe I should try and get some commission too!)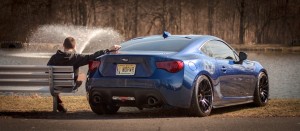 Back soon for more updates and features. Stay tuned enthusiasts. Stay tuned.
-T3h_Clap