Having an STi sometimes is not enough. Hitting the track for a High Performance Driving Event in your new STi sometimes is not enough. Sometimes it requires building an STi as a Track Car. This is a dream only few get to achieve, that and being the pilot of the car yourself is even more rare. Seeing this car grow over the past few years has been a blessing, I can't wait to see what it does next.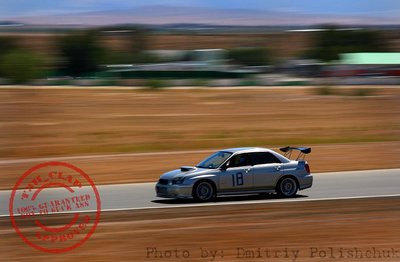 Jaime came to me a while back asking for some wheel/tire advice for his 05 Subaru Impreza WRX STi. It didn't take long to realize Jaime was serious about wanting to run a proper wheel/tire setup for his Track setup. Jaime's Subaru was no slouch when he came to me, but once we decided on a set of Strong, Lightweight, and Affordable wheels in the correct size he had a monster on his hands.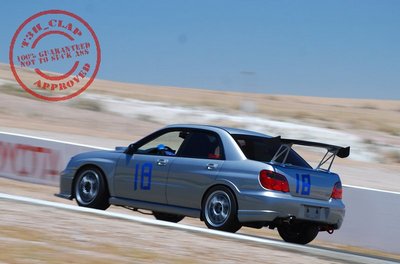 Jaime decided to go with a 17×9.5 wheel with a +44mm offset. The new Enkei NT03+M's were going to be shroud with a set of newly released Toyos. The new Toyo R888 has had some very good success in the Time Attack circles, Jaime chose to go with a 255/40/17. These new R888s look amazing on the Enkei NT03+M's. In conjunction with the entire Cusco suspension line-up Jaime's 2005 Subaru Impreza WRX STi is a forced to be reckoned with.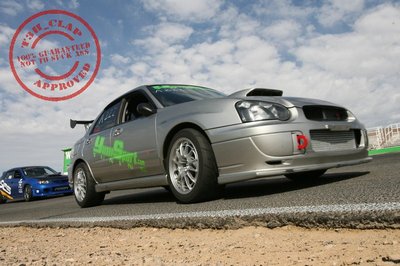 This animal isn't all suspension. This 2005 Subaru Impreza WRX STi also has a killer aero package. With a Cusco Front lip matched with a Race Proven Cusco Undertray and a Cusco rear GT Spoiler this Subaru truly exhibits Function > Form. Jaime didn't want to get left behind on the straight aways so he chose wisely and picked up a ATP GT3071 turbo with all of the proper supporting mods to make the new R888s work their hearts out on corner exit. Developing a car that not only performs in the suspension department but also the Power and Aero is something that isn't normally seen from a privateer such as Jaime.
Jaime's car isn't his only pride and joy, him and his wife recently had their first child. Jaime's dedication to both family and racing is an inspiration for many. He gives us all hope that we can have our cake and eat it to. The competition on the west coast better keep their eyes on their rear view for the bright Green Yimi Sports logo coming up fast.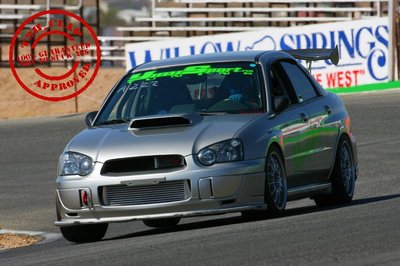 Wheels and Tires
17×9.5 +44 Enkei NT03+M wheels
Toyo Proxes R888 255/40/17 tires
Suspension mods:
Cusco Zero2e w/ eCon
Stiffer spring rates (10K/8K range)
Cusco sway bars
Cusco trailing arms
Cusco adj. lateral links
Cusco titanium front strut bar
Cusco rear strut bar w/ V-brace
Cusco motor and trans. mounts
Cusco rear adj. camber plates
Cusco front camber plate modification
KartBoy rear endlinks
TiC Giuyngmyo Fender Cowl Braces
Whiteline ALK
Whiteline steering rack bushings
Whiteline ball joint extenders
Whiteline subframe lockout bolts
Corner balanced and aligned by Darin @ WestEnd Alignment in Gardena, CA
Special Thanks from Jaime:
Angel and Joe @ EastSide Muffler in Palmdale, CA
Paul Yim @ YimiSport Tuning in Santa Clarita, CA
Tim Bailey @ SurgeLine Tuning
Meng @ Nukabe (Cusco)
Myles and Dan @ Race Comp. Eng.
SCV Fri. Night Crew
Last but not least, T3h Clap!!!