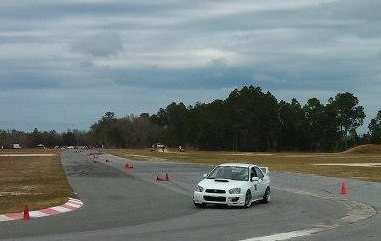 Sunday morning 4:45am It's Finger Lickin' Good Yall, finger lickin' good, Mike D what's up!?. My brain comes around to some of the best alarm clock tunes known to man. I realize it's almost 5am and time to get up and get ready for the drive to Starke. Quick background on FIRM, it's reported to be one of the best event locations for an AutoX in FL. Everyone I spoke to simply said, "You have to go". I asked for details and no-one would divulge much, I was a little worried to be honest. I wasn't sure what to expect, the satellite imagery showed multiple different potential places to hold an event.
Pulling into The FIRM at 8:05am signing the SCCA and FIRM liability waivers and driving down a curvy gravel road I start having a day dream/hallucination where I started hearing Nicky Grist giving me some pace notes. Luckily Abby brought me back before I did something stupid by saying "this road is bumpy". I shook my head a bit and realized I wasn't in a GC WRC Rally Car, but in my STi setup for tarmac. ahaha.
For more details and videos jump to the more
We pulled around to the paddock area and started unpacking the car. We registered, and enjoyed a Naked Juice. After registering I did my usual run around the car five times checking tire pressures. Being on the new Dunlop Z2 I wasn't sure which tire pressures to start with, I chose to start with 36 psi front and 34 psi rear.
With the car empty, tires pumped, car registered, we started walking the course. This was my first glance at the course and man was it long! From the start I could see just how tight the course was going to be and that there was some serious elevation changes.
As I'm walking the course starting over the crest I had another hallucination of Nicky Grist talking about "5 left over crest, 3 left rock inside". Another quick shake of the head and I was back to reality, looking at the cone smack dab in the middle of the road, there was a pointer cone laying down next to it pointing towards the left. Note to self: Stay to the left after the crest, line up correctly or you're going to be O/C. 2nd Note to self: write down other self notes so you don't forget them half way through the course walk.
Ok ok, on to the vids.
<iframe width="560″ height="315″ src="http://www.youtube.com/embed/V9-EpAwRaIw" frameborder="0″ allowfullscreen></iframe>
<iframe width="560″ height="315″ src="http://www.youtube.com/embed/s9rhNOId4Rc" frameborder="0″ allowfullscreen></iframe>
The first video is Run #4 which was my 2nd fastest run for the day. I got excited and forgot to record my 3rd run which turned out to be my fastest. Ooops.
I could lay out a list of reasons where I screwed up on both the listed runs, but they are pretty obvious. Hahaha.
The Dunlop Z2s did outstanding. I will be writing a review on them soon.
Big thanks go out to:
RevWorks
Turn-In Concepts
Killer B Motorsports
JPM Coachworks
Touge Factory