I recently had the pleasure of chatting with Pete @ EFI Logics located in Bethel Connecticut about their 2004 Subaru Impreza WRX STi Racecar.
A friend of mine tagged t3hClap  on an EFI Logics post about cheap race tires. Me being always in the market to reduce my expenditures on tires I shot Pete an Email. Unfortunately they were only looking to sell the tires locally. I did get a chance to ask Pete some questions about their awesome EFI Logics Race Car they've been running for a few years now. Below is that little chat. Read on and enjoy a few snap shots. The guys over at EFI Logics know how to build STi's.
Clap: What is the Year, Make and Model of the EFI Logics Race Car?
Pete@EFI: It's a 2004 Subaru Impreza WRX STi.
Clap: Every EFI car has a name, what's the Race Cars name?
Pete@EFI: To be clear, Rob, our engine tech names all of his engines so he can keep track of modifications and engine specs – it's a memory cue for him. This car's engine's name is Ari.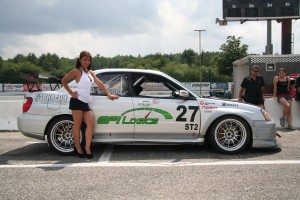 Clap:Â What racing bodies and classes do you guys compete in?
Pete@EFI: It's been racing in NASA ST-2 for the last 6 years. We are looking to possibly jump into time trials/time attack in the future along with the wheel to wheel racing.
Clap: Who are the drivers of the EFI Logics Race Car? Does he have any affiliation with the shop?
Pete@EFI: Devin Gregory is the owner and driver of the car and he is also a partner in ownership of EFI Logics.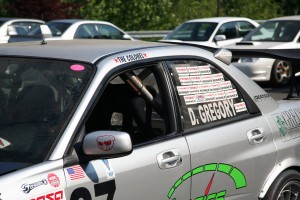 Clap: Has EFI worked along side any partners in the Race Car build? If so, who did you guys work with? (Sponsors)
Pete@EFI: We've gotten a lot of help from Blouch Turbo, Cobb Tuning, Good Year, and NASA.
Clap: What are some of the racing accomplishments the EFI Logics Race Car has had over the years?
Pete@EFI: Numerous ST-2 class wins throughout the Northeast region – I think the last time I counted the "Winner" stickers on his windows he was up to 24 event wins.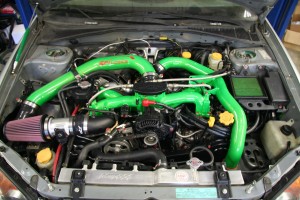 Clap: How many events do you guys hope to attend? And when/where are they?
Pete@EFI: This year we were hoping for 4-6 events. We primarily go to events at NJMP, Lime Rock, Pocono, Watkins Glen, and sometimes we go a bit further depending on scheduling. A full schedule can be seen on NASA's Northeast website:http://www.nasane.com/events.html
Clap: What are of the some of the big parts on the car? (Body work, Wheels, Turbo, Suspension)
Pete@EFI: The primary pieces to the car would be the Enkei NT03+M wheels (18×10.5, +30) on Good Year Eagle RS tires (295/30ZR18), JRZ RS Pro Coilovers, Blouch Turbo "Secret Sauce" Dominator Turbo, ATL 25 gallon fuel cell running on E85, Chargespeed front lip w/custom splitter, fender flares made for an IS300, and an APR GTC-300 adjustable wing, and an APS 3.5" exhaust.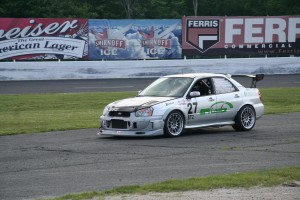 Clap: I see you've got a whole slew of tires for sale on Facebook, did the EFI Logics Race Car use all of them at some point?
Pete@EFI: Yes, there were a range in tire sizes from 275s to 295s through the last couple years. All of the tires we have up for sale are left over from this car, as well as another '04 STi and an '06 Evo IX we used to sponsor as well.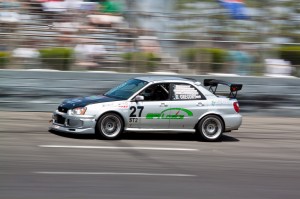 Photo Credit KW Images
Clap: Are there any big changes for the 2012 season?
Pete@EFI:Â We changed everything! The suspension setup is brand new and still being adjusted, the turbo is new, and the entire fuel system and fuel cell are new as well, as we used to run unleaded 104 octane.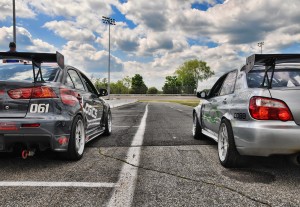 Here at t3hclap.com we're looking forward to following the EFI Logics racecars this year and also stay tuned for some more EFI articles. I know I love seeing the build thread photos Pete does maybe we can arrange a mini shop tour for our readers. 🙂
Big thanks go out to EFI Logics and Pete for taking the time to chat with us about their race car, if you need any goodies don't hesitate to shoot EFI Logics a message or swing by their web page. If you're in the Northeast you should swing by their shop and see the guys in action.
-Clap